Simply the best!
Rob Lee reflects on the 'greatest Ryder Cup of all time' and looks ahead to the 2014 contest.
Last Updated: 04/10/12 10:31am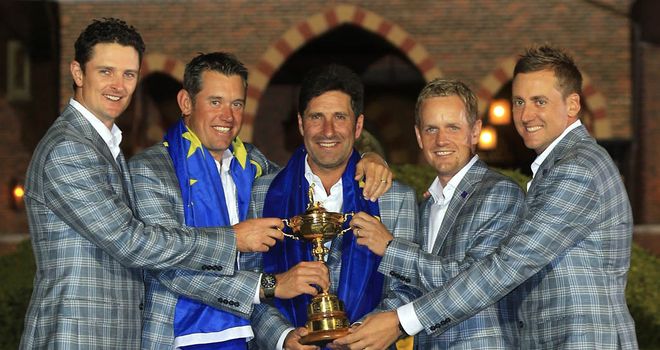 Well, that was the GREATEST Ryder Cup of all time, bar none!
I don't believe there could have been a more dramatic, nerve-tingling contest between Europe and the USA in the 38 previous editions.
When Martin Kaymer holed the putt which guaranteed the Cup was coming back to Europe, that was incredible - but then for Francesco Molinari to halve the last match with Tiger Woods and actually snatch the win for Europe on the 18th was remarkable.
That final day fightback has been compared to Brookline in 1999, when USA came back from 10-6 down; that was a great performance but this was better.
In 1999 the US were playing on home turf with the crowd behind them; this time Europe had to battle back with the crowd against them.
When Ian Poulter produced his fourball heroics on the Saturday evening I found it hard to believe that would simply be a footnote in the contest and it would not count for anything. It was an incredibly tall order for Europe but they did it in the end, and Poulter's second day performance was a key part of it.
We've got two years until the next Ryder Cup and that feels like a long time to wait after all the excitement we've just had in Chicago. However, that's what makes the Ryder Cup special.
Part of the fun is the build-up, the race to qualify and the speculation; if the Ryder Cup was every year that could dilute the magic.
Challenges
One thing I'm pretty sure we won't be seeing in Gleneagles in 2014, though, is the perfect weather the players enjoyed at Medinah.
Of course, the last time the Ryder Cup was in Europe, at Celtic Manor, the weather was atrocious - and I think it would be remarkable if we didn't have any weather problems in 2014.
It won't be warm but as long as it's dry and we get the matches played on time that will be fine.
They're doing their best to improve the golf course there and that will offer the players different challenges to what they faced last weekend.
Then it's a case of who's going to make the team and who the captains are going to be.
There are several people hovering in the back-room staff who could step up to take over from Jose Maria Olazabal - who did a fantastic job. I think it will either be Paul McGinley or Darren Clarke in charge at Gleneagles.
Maybe Clarke will prefer to do an American one, I'm not sure. Either way, the Players' Committee will decide and I suspect it will be between those two.
Personally, I'd like to see Miguel Angel Jimenez as a potential captain in the future. Captains have to speak quite a bit but I don't care if he speaks pigeon English or not - he's paid his dues and I think he would make a good captain.
Thomas Bjorn is another potential candidate and it would be good to have a Scandinavian captain - but I can't look past Clarke and McGinley for the next one.
Valid
In terms of players, one man from the 2012 team who will be desperate to return in two years' time is Paul Lawrie. He would love to play in a Ryder Cup in Scotland.
To qualify for this one was a fantastic effort from him and he's playing the best golf of his life at the moment. I think he's too young to be thinking about being a captain and I expect him still to be a valid player in Gleneagles.
As well as Lawrie, I'm sure there will be a large chunk of this 2012 side there in two years' time. We might see a resurgent Paul Casey by then and I'm sure Padraig Harrington is desperate to get back in, but whether he can play well enough I don't know.
We didn't have an old team out there this year - Europe didn't have players in the Jim Furyk or Steve Stricker (whom i doubt will play a Ryder Cup again)age bracket, apart from Lawrie, so plenty of them will be able to come back and attempt to retain it on home turf.
I'm not sure whether this Ryder Cup performance can have an impact on the likes of Lee Westwood, Luke Donald and Poulter in their pursuit of majors, as some people have suggested it could.
They've all played in and won Ryder Cups before and that hasn't helped. Poulter, particularly, turns into a different animal when it's Ryder Cup time. He's just unbelievable in it. But I don't think you can translate Ryder Cup play into major championships.
But Europe have won five of the last six Ryder Cups now and it's true they are now more evenly ranked with the US players in the world rankings. That should lead to more close matches to come - although I don't think any future contests will match up to Medinah 2012.
ROB'S SKY BET TIPS
Alfred Dunhill Links Championship
There's a very good field at the Alfred Dunhill and I'm going for 25/1 shot Paul Lawrie to repeat his 2001 victory there. I watched him play in the fourballs in Medinah and he didn't play badly. When you lose people think you played badly but I could see he was going well and he played some great stuff in the singles. He got his point, played his part and now he's going to a place he's very comfortable in. The weather may not be good there and everybody says Lawrie is a good bad weather player, but the fact is he's a good player full stop. I think he'll enjoy being back in Scotland and will be on a bit of a high after last week.
Justin Timberlake Shriners Hospitals for Children Open
The guys playing here will pretty much be players who want to keep their cards. Robert Garrigus is playing and I think he could do well at odds of 16/1. This is a Fall Series event and he won another Fall Series event - his only win on the PGA Tour - at the Children's Miracle Network Hospitals Classic in 2010.
He's a better player now than he was when he won that tournament and I think he'll look at that field and think, with a lot of the big boys away, this is an opportunity to get a win on the PGA Tour. He hits it miles, too. He's toyed with the longest putter on tour and the shortest. He's back to the short one now and we'll see how that fares.here