Rob Lee blog: 'Bernhard Langer is a great role model but won't earn Ryder Cup pick'
Sky Sports expert says Jim Furyk has lots of 'scar tissue'
By Rob Lee
Last Updated: 30/07/14 11:17am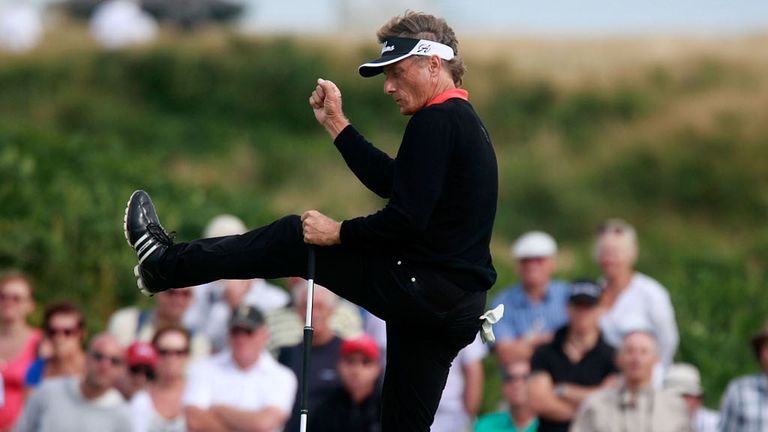 Bernhard Langer's performance at the Senior Open Championship was amazing.
Here is a guy who is 56 years of age and has to deal with the yips whilst chipping and putting every day, yet he finished 18-under-par and 13 shots clear of a red-hot Colin Montgomerie.
I dare say that if you had every player who competed at The Open Championship at Hoylake a week previously they wouldn't have beaten Bernard's score.
I don't think you can claim Langer's victory was equal to or better than Rory McIlroy's US Open and USPGA triumphs, when he won by eight strokes, or Martin Kaymer's eight-shot victory at Pinehurst as he was playing against a smaller pool of potential winners, but it was remarkable nonetheless.
Bernhard looks exactly like he did all those years ago when he was winning The Masters and he remains the pro's pro and an example to young players of how to live your life and devote yourself to what you do, yet maintain a family life at the same time.
Experience
Langer is a special man – but I don't think he has any chance of getting a Ryder Cup wildcard.
You are talking about a possible five rounds in three days which is a lot for a man of Bernhard's age, while Gleneagles will also be wet so he won't be able to bomb the ball 350 yards down the fairway.
Europe are not struggling for players with Ryder Cup experience either as in the nine automatic spots at present only Victor Dubuisson and Jamie Donaldson have not played in the event before
Plus, if those places remain the same, Paul McGinley will be able to select from a host of Ryder Cup veterans, including Lee Westwood, Ian Poulter, Graeme McDowell and Miguel Angel Jimenez, as his wildcards.
So, for me, Bernhard at Gleneagles is a non-starter.
Damage
It was good to see Tim Clark win the Canadian Open, meanwhile, as he has been a good, steady knocker for some time, albeit one who suffers with the same short-game malaise as Langer.
Tim hadn't had a victory on the PGA Tour since he became the shock winner of the Players Championship in 2010 but now that he has a second trophy in his cabinet maybe he can kick on, though he will have to deal with the long-putter ban come 2016.
I really enjoyed his victory in Montreal but I bet Jim Furyk didn't!
Furyk led by three going into the final round but ended up losing to Clark by a stroke and while Tim's five birdies in the last eight holes did the damage, Jim has a lot to think about because shooting one-under on a good scoring day was not going to get it done.
He has now failed to convert any of his last seven 54-hole leads into wins and when he is in final rounds he tends to twitch, muck about and play with a real lack of freedom.
There seems to be a bit of scar tissue there for Jim, which perhaps stems from not winning events he should have done earlier in his career.
ROB'S SKY BET TIPS
I have Open Champion Rory McIlroy pegged to win the USPGA Championship at Valhalla as that course suits him like you wouldn't believe, but he's not one of my names for the Bridgestone.
I have two tips this week: Rickie Fowler and Lee Westwood.
The job Butch Harmon has done on Fowler's swing has been superb and I'd say it is one of the greatest swing rebuilds we've ever seen.
For Rickie to go from what came naturally to him to absorbing all that Butch has told him and flourishing with his new swing is testament to both player and coach.
Fowler finished fifth at The Masters and backed that up with second places at the US Open and The Open and it's time he got a win.
I saw Lee, meanwhile, on the range before Friday's round at The Open flushing the ball nicely and as he also needs the points as he fights for an automatic Ryder Cup spot, I think he is due a good tournament.