Rory McIlroy and Tiger Woods lose opening matches in Turkish Airlines World Golf Final
Rory McIlroy and Tiger Woods both suffered defeat on day one of the Turkish Airlines World Golf Final.
Last Updated: 09/10/12 3:56pm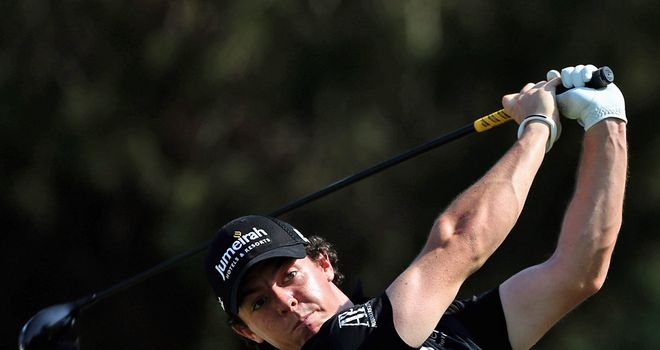 McIlroy, who had not touched a club since the Ryder Cup came to such a thrilling climax nine days ago, unravelled spectaculary over the closing holes to lose to Matt Kuchar, while Tiger Woods lost by a shot to 2011 Masters champion Charl Schwartzel.
McIlroy made two eagles in an up and down outward half of 34 and, although Kuchar pulled three shots clear with a birdie at 10, the match was in the balance with four to play.
However, world number one McIlroy fell apart in dramatic fashion, going triple bogey, double bogey, double bogey from 15-17 to slump from two-under to five-over in the medal match play format where the lowest strokeplay score over 18 holes wins one point.
Kuchar dropped shots too but was able to coast home in one-under 70 to win by six strokes.
Woods fought back valiantly to pull level with Schwartzel after birdies at 16 and 17 but a loose approach into a bunker at 18 led to a bogey five, allowing the South African to win by a shot, 69 to 70.
In the third match, Justin Rose (71) never needed his best to beat American Hunter Mahan (75) who didn't manage a single birdie, while a par at 18 saw Lee Westwood (72) edge out American Ryder Cup foe Webb Simpson (73).
Each of the eight players play three matches in the group stages, the remaining two head-to-heads both taking place on Wednesday.
The winner of Group One (Woods, McIlroy, Kuchar, Schwartzel) will then face the runner-up of Group Two (Rose, Mahan, Westwood, Simpson), and vice versa, in Thursday's semi-finals, with the final to be staged on Friday.
Gave up
In regular match play McIlroy's seven at the 15th might not have been so costly, but the 23-yeard-old admitted he "gave up a bit" after going three strokes behind with three to play.
"I was playing pretty well until the 15th, then hit a loose tee shot there and was messing about in the trees and making seven," said the world number one, who had not seen the course before.
"Then I hit it into the hazard on 16 and was just trying to get the round done. I lost a bit of concentration, went a few behind and gave up a bit.
"If it was a different format and a different tournament it might not have got as out of control as it did, but that's just the way it is.
"But it's fine. I know what I need to do tomorrow. I need to go out and win both of my matches and see if that's good enough. In a way it could be a blessing that I'm not complacent and I go out and give it my best."
Asked about the prospect of facing McIlroy on Wednesday afternoon, Woods said: "I have to take care of my match and we'll see in the afternoon. We have to both win in the morning.
"We're the two highest ranked players in the world right now and it will be a fun match either way, but it will obviously be a lot better if we both win in the morning."