Justin Rose clinches first major with two-shot win in US Open at Merion
Justin Rose ended England's 17-year major drought as he held his nerve to win the 113th US Open at Merion.
Last Updated: 05/07/13 12:13pm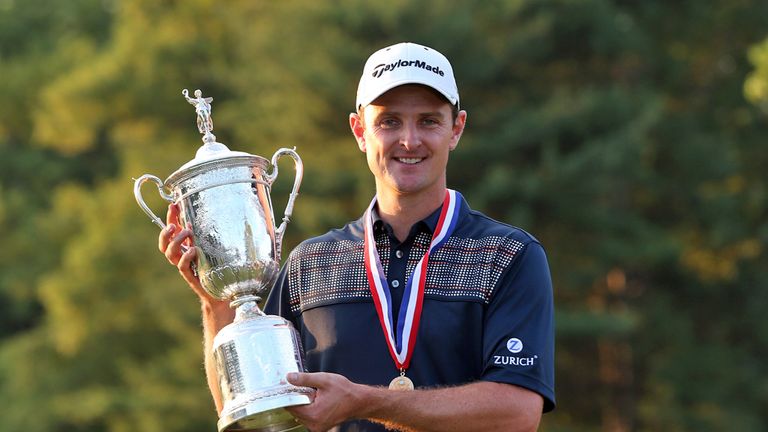 Rose was the last man standing on a brutally tough final day at Merion, putting together a composed level-par 70 to finish on one over for the tournament.
Superbly-crafted pars at two of the toughest finishing holes in golf left him one ahead of Phil Mickelson, and Rose was soon confirmed as the Englishman to win the US Open since Tony Jacklin in 1970 when Mickelson failed to birdie the last.
Rose had started the day two off the lead, and he soon slipped to two over after bogeys at the third and fifth sandwiching a birdie at the long fourth.
But as playing partner Luke Donald crashed out of contention, Rose propelled himself into a share of the lead with superb approaches to six and seven setting up a pair of birdies.
Fan-favourite Mickelson, who was celebrating his 43rd birthday, tumbled down the leaderboard after double-bogeys at the third and fifth, but he then prompted the biggest roar of the day when he pitched in from 76 yards for eagle at the 10th.
Challenge
Up ahead, Rose three-putted the 11th before responding with an exquisite approach to two feet at the 12th followed by a 20-foot putt for another birdie at 13 to get back under the card.
The 32-year-old failed to get up and down from a greenside bunker at 14 and he then three-putted 16 before regaining his composure to hit two of the purest long-irons of his career into 17 and 18.
Jason Day birdied eight and 10 to get to even par before his challenge faded with three bogeys coming home, and Mickelson made a huge mistake going long at the short 13th and another shot went at 15.
Shortly after Rose nudged a fairway wood from the fringe to within an inch for a cast-iron par at the last, Mickelson blocked his drive into rough, came up short with his second and pitched beyond the pin to endure his sixth runner-up finish in the tournament.
Rose spent most of the round jostling for the lead with Day and Hunter Mahan, who stayed firmly in the hunt as he ground out pars at 13 of the first 14 holes.
But Mahan's bid for a first major floundered with a double-bogey at 15, and the deflated American bogeyed the final two holes as he finished with a 75 to finish four off the lead.
Donald's challenge was effectively over by the sixth, where the former world No 1 followed three straight bogeys with a scrappy double-bogey six.
He got back to five over with valiant birdies at 10 and 12, but another shot went at 14 and he had to be content with a tie for eighth on six over - his first top 10 in the US Open.
Donald finished one behind Jason Dufner, who was a remarkable five under for the day through 14 flawless holes before pulling his drive out of bounds at 15 en route to a triple-bogey seven.
Dufner recovered to post a 67, the best round of the day, while Ernie Els warmed up for the defence of his Open Championship title next month with a closing 69 to join Dufner on five over.
After being crowned champion, Rose said: "It feels fantastic, absolutely amazing. Going forward it gives me a lot of confidence. I don't know if it takes pressure off, but it's a moment where you can look back and think childhood dreams have come true."
The 32-year-old raised his fingers to the sky after tapping in for par on the last in tribute to his father Ken, a massive influence on his career who died from leukaemia in 2002.
"I just kept telling myself that (making bogeys) is what everyone is doing. You saw me look to the heavens with it being Father's Day - I was just trying to remember my dad.
"My coach Sean Foley sent me a text this morning which said 'Go out there and be the man that your dad taught you to be and that your kids can look up to'."
Rose became the second consecutive 32-year-old to win a major championship following Adam Scott's win at the Masters, and he added: "I took a lot of encouragement from Adam Scott. He sent me a fantastic text after the Masters which said 'Your time is coming soon'. He is a wise man."
With a one-shot lead playing the last, Rose hit a perfect drive down the fairway with his ball coming to rest just yards from the plaque which commemorates Ben Hogan's one-iron to the final hole of the 1950 US Open, which helped get him into a play-off the following day which he went on to win.
"I saw my ball in the fairway and I thought 'this is my moment'," Rose added.
"I have seen that Ben Hogan photograph a million times and suddenly it was me with an iron into the fairway and two putts to win the US Open.
"It was not quite two putts in the end (he hit a fairway wood 'chip' from the fringe) but I was just glad it worked out. I hit a great four iron shot so I feel like I did Hogan justice."
Mickelson had taken a one-shot lead into the final round and reclaimed that advantage when he holed his second shot to the 10th for an eagle, only to drop three shots in the last six holes - most notably on the 13th and 15th.
"For me it's very heart-breaking," he said. "This could have been a really big turnaround for me in how I look at the US Open. This week was my best opportunity I felt, the way I was playing and the position I was in and to not do it, it hurts.
"The wedges on 13 and 15 are the ones I will look back on. On 13 I hit way too much club, I hit a pitching wedge and needed a gap wedge. On 15 when I did hit a gap wedge I quit on it."
Rose's Ryder Cup team-mates were quick to pay tribute to him on Twitter, with 2011 winner Rory McIlroy writing: "So happy for @JustinRose99! Couldn't happen to a better lad!"
And 2010 champion Graeme McDowell added: "Congratulations to @JustinRose99. Best player in the world the last few years. Major much deserved. £respect."