Muirfield memories
Dave Tindall was there for the 2002 Open at Muirfield. Here's his in-running blog from the final round.
Last Updated: 11/07/13 11:57am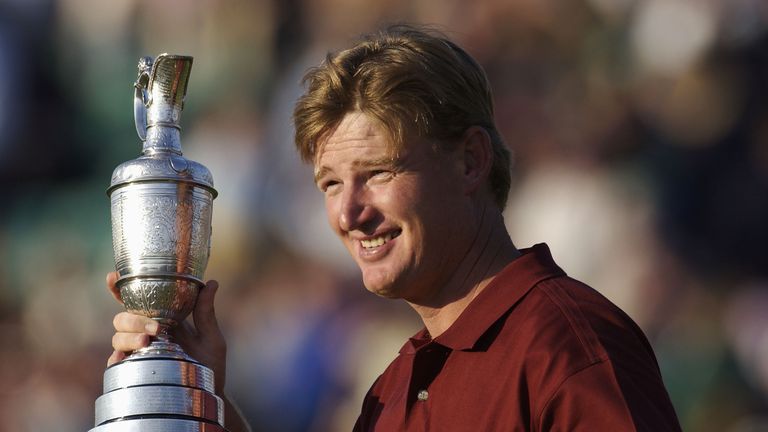 8.15am: It's sunny! Not a remarkable statement in itself but after the atrocious weather yesterday it's amazing how pleasant it is this morning. Bright skies, sun getting through the clouds and only the coolest of breezes. The ground underfoot is still squelchy but that's mainly where the spectators have trodden through it. The course itself seems pretty dry although it will be a good idea to stay out of the rough again today.
8.30am: When was the last time Tiger Woods teed off at 8.30am on the Sunday of a major? It's almost surreal to lean out of the press tent and see Woods start his round alongside fellow American Jeff Maggert at this hour. For the first time this week he finds the fairway but the red clothing that he wears to give him extra powers on the final day seems muted. Although technically I was declared colourblind at primary school in the late 70s, the shirt under his black tank-top looks sort of a pinkish off-red to me.
8.40am: Tiger started the day 11 shots off the lead today but is there any chance at all of the mother of all final day charges happening? Judging by the early scores, probably not. Matthew Cort has the best score going so far but that is only two-under for the day. Of the 15 players out there, only four are in minus figures for the day. They don't include Colin Montgomerie who is +1 after 8 and +10 overall. Ten of those 15 shot in the 80s yesterday so perhaps they're all still in shock.
9.10am: No sign of a Tiger charge then. The world number one is +1 for the day after a bogey at the third. His +7 total leaves him 12 off the place in 75th place.
9.45am: The weather is now officially glorious. I've just come in to dab on some suncream and dig out the sunglasses that were gathering dust at the bottom of my bag. But will it stay? Well, chatting to a couple of locals suggests it will, so a repeat of yesterday seems highly unlikely. One of the weather experts went to school with Colin Montgomerie's wife and Mrs Monty will need all her comforting skills to console hubby who is now +4 for the day, +13 for the tournament and last but one. Perhaps she can console Monty with the fact that the other three players who currently occupy the last four places are all major winners - Mark Calcavecchia, Lee Janzen and David Toms.
10.15am: The sense of excitement is starting to build. Despite an eagle at the ninth, taking him out in 33 and to +3 for the tournament, Tiger Woods will still not be winning. Hopefully that honour will fall to one of my tips who are sitting pretty at the front of the field. At this stage, my gut feeling is that Ernie Els will be crowned champion tonight. All those trips to Scotland to play the Dunhill Cup paid off yesterday as he handled the diabolical weather better than most and after all his good performances in the Open there's a feeling that he's definitely paid his dues. The worry is that Ernie can get the shakes when leading. The last time he led a major into the final day - at the 1995 USPGA - he made a meal of it and finished third. And earlier this year he took an eight-shot lead into the final round of the Genuity Championship and almost got pipped by Tiger. Don't let me down today Ernie! Luckily, if the South African does slip, a couple of my other tips are ready to pounce. Sergio Garcia and Justin Leonard are both tied third, three behind Els, and have the talent to come through. Of course, I also face the ultimate humiliation. Having said Justin Rose would miss the cut this week, there's a genuine prospect that he could actually win it! Ernie is last man out alongside Soren Hansen at 2.30pm while the two Justins go out in the penultimate group at 2.20pm. Garcia is 10 minutes earlier while my other two tips, Bob Estes and Davis Love, tee off at 11.50am and 12.15pm respectively. These two are probably too far back to win but both will have an important say on how well I do with my spreads tips.
10.45pm: Tiger is now -5 for the day and tied 23rd. Until someone has put a better score in the clubhouse he won't give up his fight for the Grand Slam. If he could somehow play the last five holes in four under he'd have shot the lowest ever round in major championship history, a 62. What a transition from his third round 81. I'm going outside for a while to see if he can pull it off.
12.15pm:
Tiger can't quite keep his momentum going over the final holes but still finishes with an excellent 65 to haul himself back to level par. It leads in the clubhouse for now but with no signs of the weather turning, that won't be enough. When I went out at 10.45pm it was a little chillier - jumper rather than T-shirt weather - but about an hour later the sun was back out. I took up my now familiar position in front of the clubhouse behind the back of the 18th green and watched Tiger come off. After emerging from the scorer's hut he spoke to British, American and Japanese TV and then radio. And this was all before his question and answer session with the print press. You can't help but admire the way he stays patient and answers each question as if it's the first time he's been asked it. I will leave Muirfield with an even greater admiration for Tiger even though his Grand Slam bid came up short. And I think the crowd will love him just a little more too. Seeing him battle back to finish level par after his horror story third round 81 on Saturday will endear him more to the crowds than if he had eased to another two or three-shot win. As for the Slam, Tiger tells his interviewers that he's done one before anyway. And something for your notebooks. Tiger has never seen Hazeltine - venue of the year's final major - and doesn't know anything about the USPGA venue. But don't be surprised if he wins there as the course is long and right up his street.
12.45pm: Tiger is also asked by American TV what he's going to do for the rest of the day. He replies that he will hang around for his mate Mark (O'Meara) to finish. That should be a couple of hours from now but if O'Meara keeps playing the way he is at the minute, Woods might have to wait for him to finish his victory speech. 1998 Open champion O'Meara reaches the turn in 32 to go two-under and if he can keep it going he could set a very decent clubhouse score.
1.15pm: A quick progress check on my tips. Davis Love is up to tied 13th after two early birdies. He's just missed a shortish eagle putt. And Bob Estes has churned out six straight pars to stay +1 and in a tie for 36th. I sold their finishing positions at 25 and 35 respectively on the spreads so a few more birdies will produce some decent profits. Meanwhile, Aussie Peter O'Malley is six-under for his round today and now just a shot behind Ernie Els. Playing partner O'Meara also birdies the 12th to move to -3. My main hopes for victory - Els, Garcia and Leonard - will all be under way 75 minutes from now. I'm getting tense. David Duval is about to tee off so I'm going to watch him for a couple of holes.
2.30pm: After a dart around the course, I return just in time to see Ernie Els tee off. The galleries are predictably thick around the first tee and I have to crane my neck to see the top of Ernie's head. A typically smooth swing but the ball is clearly heading left. I dash back into the press tent and on one of the giant TVs I see Ernie's ball is under the lip of a bunker. He can only chip out and has to settle for bogey. Not the start I was looking for from my 18/1 tip. Before I got to champion-elect Els, I had followed defending champion David Duval. After a good par at the first, he holes a fine putt at the second to get him to -1. "Our money's not dead yet," says a Duval backer as their man marches off to the third. But Duval can't make any more early progress and as I leave him on the fifth against the backdrop of the Firth of Forth, he looks hugely disappointed after failing to birdie the par five. Coming down the adjoining 12th fairway is new tournament leader Gary Evans. The Englishman has gone on a birdie blitz to go seven under for the day and leads by one on six under. A par at the 12th keeps his advantage. Bob Estes is coming onto the 12th tee next so I wait for him. Also waiting is a guy in a Liverpool shirt with Diouf written on the back - a reminder that the new season is fast approaching.
3.00pm: Gary Evans has never won a tournament in his life and yet here he is leading the Open by two shots. He finds the fairway on the par five 17th but then hoicks his second into thick hay. Laura Davies, working for radio, leads the search party. His best ever finish was a second place at the Turespana Masters in 1992 so he can be forgiven for feeling a little nervous. Laura gives a cheery wave to the TV cameras, perhaps underestimating how serious this is for 32-year-old Evans. The search goes on and I wonder if an Ernie Els backer has pocketed it and made a quick exit. Sadly for Evans his allotted search time runs out and he has to make the lonely walk back to the fairway to hit again.
3.10pm: As Evans reloads, it seems all the other leaders knock in birdies, including Ernie Els. I wonder where on earth Evans' next attempt is going and ponder whether this is his Jean van de Velde moment. But, showing great spirit, he crashes his second ball onto the back of the green. And then, incredibly, he sinks a massive 50 foot putt to salvage an amazing par. "That was for you mum," he shouts delightedly into the camera by the green.
4.10pm: Gary Evans has a second attempt at a van de Velde moment as he flies it all over the place down the last. I'm 50 yards behind the green next to the clubhouse and even there I feel threatened that he might hit me. But the man from Worthing finally gets the ball on the green and does well to escape with a bogey. Looking shattered he comes off the green and tosses his ball towards the group of us by the clubhouse. I'm close to catching it but it's always beyond my reach and a member gratefully pockets it. I could have sold that on e-bay - an idea that gathers pace as Els misses the chance to birdie the par five fifth. As Evans recalls the dramas of the last two holes to Dougie Donnelly, Bob Estes putts out on 18 and gets safely in on -2. That puts him just inside the top 20 for now so he's bagged my first profits. And two groups later, Davis Love closes on -3 to bag some more. Playing partner Scott Hoch has a chance to tie for the lead but bogeys. What an irony that could have been, Hoch winning the tournament that he's frequently blasted. I sensed he was in for a good week the other day when I caught him smiling despite playing in the rain.
4.15pm: Els is back in the lead with a birdie at the ninth to go to -6 but I still feel very nervous. Sergio Garcia and Justin Leonard are poised to make a late rush on -3. There seems little chance of Ernie putting this to bed early as David Duval did last year.
4.30pm: Another birdie for Ernie. I haven't eaten yet. It must be nerves. Els now leads by two but there's plenty still in the hunt. I'll watch his progress from the dining area.
5.05pm: Every time I go into the canteen, Els plays well so I'm tempted to stay in there. But with the tournament drawing to a close and Els looking favourite for victory I simply have to go out and watch my 18/1 tip try and land the gamble.
6.15pm: Oh Ernie, Ernie, Ernie, what happened? The Open Championship was yours and yet now a four-hole play-off beckons. I was by the 16th green when Ernie's fatal second shot passed the hole and trundled agonisingly away down the hill. It was all too much for Ernie's mum who started walking slowly away towards the 17th. I couldn't bear to watch either and kept in touch via radio. Up ahead Mrs Els was dragging heavily on a cigarette and she was consoled by Mr Els who lit up one himself. I've never seen either smoking on the course. They exchanged a deflated look when the sighs of the crowd told them Ernie had double bogeyed and lost the lead. But better news at the 17th as two great shots allowed Els to tie for the lead again. With the crowds jam-packed and the action impossible to see, I jogged up to the restricted access area in front of the clubhouse and watched from there. Ernie's parents were there also. And so, two good shots and suddenly he has a putt for the championship. But no, he can't make it and now we face a four-hole play-off featuring Els, Thomas Levet, Steve Elkington and Stuart Appleby. For now I will watch it from the press tent.
6.45pm: The four play-off contenders are split into two groups of two - Levet and Elkington first, Els and Appleby second. Elk bogeys the first while the other three make par. But then Levet birdies the second with a great putt. You may be interested to note the entry I wrote about Levet at 7.30pm on day three (his caddie saying he could win)! If only I'd acted on it!
7.00pm: Elkington holes a monster to birdie and get back to level par. I'm listening to the radio which reveals Elkington's birdie about 30 seconds before it appears on television so it's odd to hear a belated roar in the press tent. Levet makes par. Groans as Els misses the fairway. It's now Levet at -1, Els and Elkington at level par and Appleby at +1.
7.15pm: The drama continues as Levet, with a one-shot lead going up the final play-off hole, makes a mess of it but bravely holes an eight-footer to drop just one shot. But Elkington misses his putt for par and he drops out. Now there are just three. Els and Appleby need to par the last to match Levet. I'm going outside again.
8.05pm: GET IN THERE!!!!!!! Thankyou Ernie Els. You've taken about five years off my life but I forgive you. I was sick to the stomach twice as Ernie twice missed putts to win so goodness knows how he felt. I'll write more when I've calmed down.
And finally: Well it's been a great week obviously with Ernie Els, my 18/1 tip, lifting the claret jug. From a betting point of view, I've realised how you can gain so much more information by being here. Sometimes it's through extra access via a press pass but it's also about being able to use your own eyes and make your own judgements and see the things that television doesn't show or pick up. For example, when I went out to watch Scott Hoch in the bad weather I felt a bit let down at the time as this famed British Open weather hater smiled his way through the rain. I was looking for tantrums. But turning it on its head, his good mood was in fact a great tip-off that Hoch was in a good state of mind and ready to perform well. In the end he very nearly got into a play-off. Taking now an example from being there with a press pass, the extra access allowed me to hear Thomas Levet's caddie say how well his man was playing on Saturday night. I almost didn't think it was important enough to mention in the diary but in the end I was glad I did as the Frenchman so nearly took victory. But, of course, the best example of how being there helped was the words I exchanged with Ernie Els' dad on the very first hole on Thursday morning. Despite tipping the big South African, my confidence had wavered a bit, but Mr Els' now immortal line "He's going to have a good one" acted as a real boost. You could argue that he was just a proud father talking about his son. But I also asked him the same question at Lytham last year and he pointed to his head, saying Ernie's mental approach wasn't right. Seeing the two celebrate on Sunday evening rounded it all off perfectly and hopefully I'm not the only one who had a bet at 18/1.
Later that night: Before reflecting on Ernie Els's great win, I'll rewind to the moment I finally saw him clinch his long overdue claret jug. I'm stood behind the 18th green in front of the clubhouse. I should think of a one-word name for this as I keep mentioning it. It's been agony watching Ernie let victory slip through his hands twice and it's unthinkable that he will miss his final putt. However, I then think back to how another South African, Retief Goosen, missed an even shorter one for victory at the US Open last year. Hopefully Ernie isn't also thinking about his compatriot. Despite several heads in front of me I have a clear view of Ernie, his ball and the hole. He draws the club back, strikes the ball and it drops! Thank goodness for that. I kind of lose site of Ernie as he's engulfed but a few minutes later the family Els are gathered around the scorer's hut waiting. A voice to the left of me shouts "Liezl" (the name of Ernie's wife). It's Nick Price and the Zimbabwean gives Mrs Els a big hug. It's all too much for her and she breaks down in tears. A relieved Els runs through his interviews with TV and radio and then comes over and high fives with Price who tells him "you deserved it". Ernie is then brought into the press tent for his official interview and receives a rousing round of applause. The claret jug is on the table next to him. He looks like a man relieved rather than elated and his line that "it hasn't sunk in yet" is totally genuine. Wife Liezl is sat at the back. She's six months pregnant with their second child and jokes that it nearly came early. Ernie says he's a bit 'Jekyll and Hyde' when it comes to golf and has to fight the little devil on his shoulder. But seeing him with the claret jug just looks right somehow. He's been a great servant of the Open and after a third and two second places this is fully deserved. His win caps a very profitable week with Justin Leonard, Sergio Garcia, Davis Love and Bob Estes all contributing to a 100+ points profit. Okay, I got it wrong about Justin Rose.