Golf's original 'Big Three' remain thrilled at being honorary starters
Jack Nicklaus, Arnold Palmer and Gary Player remain excited by the thrill of the Masters.
Last Updated: 10/04/14 5:49pm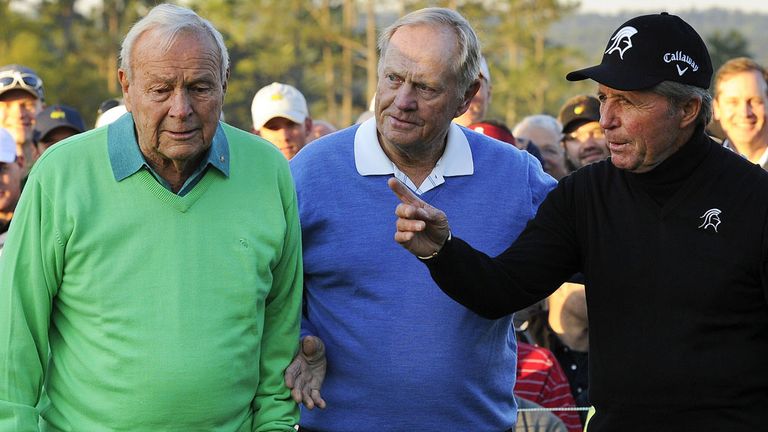 The 1960s 'Big Three of Golf' took part in the customary opening ceremony of this year's tournament by hitting drives down the opening hole of the picturesque Georgia course.
Between them, the trio have won 34 major titles, including 13 in the Masters and seven in a row between 1960 and 1966.
Elder statesman Palmer, 84, drove first followed by Player, 78, and the youngster of the group Nicklaus at 74.
Player, a nine-time major winner who contested a record 52 Masters, said: "I think Jack outdrove me by a yard or two. But it's not bad when you think he used to outdrive me by 50.
"But it's been a wonderful journey with these two gentlemen here. We went across the world. We've slept at each other's homes and our wives have known each other, and we have had a great friendship.
"We've always wanted to beat each other, we've never hidden that. But when we did win, we congratulated the other. When we lost, we congratulated the other.
"This place means an awful lot. It's the best-organised tournament in the world. It is something special and it's nice to be a part of it."
Nicklaus says he still misses the enjoyment of playing in the event: "It was such a great thrill every time we teed it up to actually play for real and I think we'd all love to wind the clock back a few years and play.
"It's such a great tournament, a great thrill to stand on the first tee, have the butterflies and get that first tee shot over and get going. Today there were no butterflies."
Asked about teeing-up as an honorary starter, Palmer said: "I suppose as long as they ask me to do it, I'll do it."