Lawrie leaves it late
Paul Lawrie kept himself in the hunt for a second major title after finishing his second round with three straight birdies.
Last Updated: 07/04/12 12:25am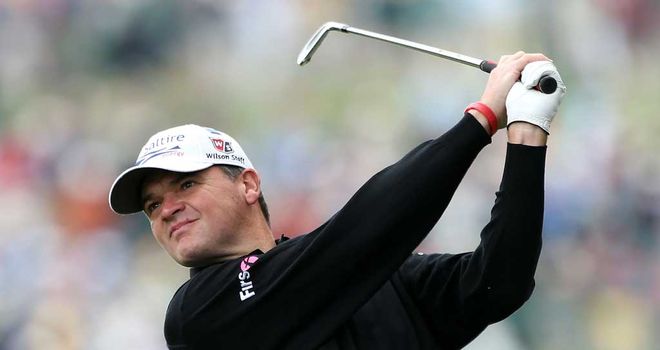 Scotland's Paul Lawrie kept himself in the hunt for a second major title after finishing his second round with three straight birdies.
The 43-year-old 1999 Open champion appeared to be slipping out of contention when he had four bogeys between the fourth and 14th holes after an early birdie at the third.
However, he holed a monster 50-foot birdie putt which swung wickedly downhill from left to right on the par-three 16th to spark his round back into life.
Birdies at the 17th and 18th followed and Lawrie was able to sign for a level-par 72 as he returned to three under, just two shots off the lead.
"Front nine was a bit harsh, I thought, to turn in one over," he said.
"I played quite well, hit a lot of good shots and had a couple of mistakes with the putter. I didn't feel as though I was swinging poorly or struggling and then I made another mistake at 12 when the wind kind of switched on me.
"And then three great birdies to finish and that gets you right back in it and just a couple behind."
Phil Mickelson also finished strongly and the American fancies his chances of winning a fourth Green Jacket after putting himself back in the mix with a four-under 68.
The laft-hander, champion at Augusta in 2004, 2006 and 2010, was four over after 12 holes on Thursday but has played his last 24 holes in six under.
He posted back-to-back birdies at the third and fourth before bogeying the fifth and another unfortunate bogey followed at the 11th.
That sparked him back into life and he rattled in three birdies in four holes from the 12th before holing from 18 feet for par at 17 and ramming in a 20-foot birdie putt at the 18th to send the crowd wild.
Great
"It feels great," said Mickelson. "I knew that it wasn't far off and that a couple of smarter decisions and a few more pars instead of bogeys were going to turn this into a round in the 60s and get me right back in it.
"With these swirling winds nobody is going to really run away and nobody is really running away.
"This round is going to make for an exciting weekend but when I look back on this tournament I am going to look back at Thursday's round the way I fought to stay in it.
"There are a lot of guys ahead of me but I am only three off the lead with 36 holes to go and I know there are going to be a lot more birdies out there.
"If I can just salvage one or two more shots I can get right in the mid-60s and move right on top of the leaderboard. But we've got plenty of time."