Donald still waiting
Luke Donald is set to stay on top of the world rankings but that will be of scant consolation to the Englishman.
Last Updated: 08/04/12 10:11pm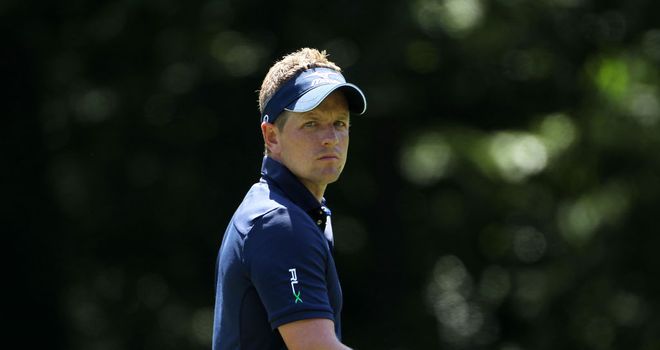 Luke Donald is set to stay on top of the world rankings but that will be of scant consolation to the Englishman after another major slipped beyond his grasp.
Donald began the week with high hopes, but rounds of 75, 73 and 75 on the first three days left him out of the running heading into the final round.
A poor finish might have seen him relinquish the World No 1 ranking as well, but Donald rallied to post a four-under-par 68 and finish on three over par.
Donald mixed four birdies and two eagles with two bogeys, the highlight coming at the long 15th, where he used his driver as a chipper from just off the green and made his third shot from nearly 40 feet.
Donald admitted that it had been an effort even to get his motivation going for the final round, knowing that he had no chance of winning.
"Regardless of how I played, I'll leave disappointed this week. It wasn't what I wanted," he said.
"It's not a nice feeling waking up knowing whatever you shoot is probably not going to be good enough.
"But I'll also leave with some positive feelings after today's round. I played nicely today. Sixty-eight, I think, is my lowest round around here, or tied for the lowest round.
"It's good memories to try and think of rather than some of the golf that wasn't tidy enough the first three days."
Good memories or not, Donald knows that his failure to contend this week will only increase the pressure on him to finally come good when it matters most - at the majors.
He has now played in 35 of them and has only six top-10 finishes to his credit, none of them in first place.
Small margins
Asked what made it so hard for him to contend in the majors, he said: "There's so small a margins out here at Augusta.
"I think that's the difference between majors and normal events. The margins are so small, you just can't get away with it as much.
"Obviously I've got to work on being able to bring the game that I play at normal tournaments to the majors. I'm getting closer each time. It just takes more and more experience.
"It took me a while to learn how to win on the PGA Tour and the European Tour and win consistently.
"I think it's the same with majors. It's a different level and it's just taking me a little bit of time to figure it out."
Next up is the US Open at the Olympic club in San Francisco from June 14-17. Donald intends to change his build-up to that having complained of feeling tired last year at Congressional Club in Washington.
"I played four in a row with the Memorial being the fourth last year. This year I'll play The Players, week off, Wentworth and the Memorial," he said.