Denis Pugh
Golf Columnist
Britain's best lack power to win Masters - except Rory McIlroy, says Denis Pugh
Last Updated: 09/04/14 5:01pm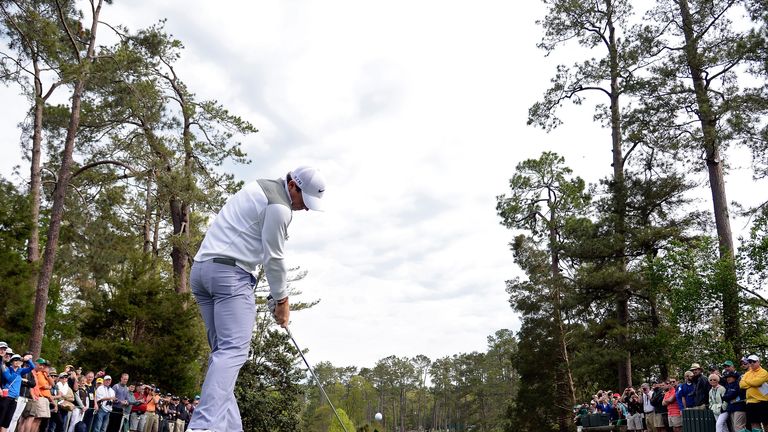 Rory McIlroy aside, Britain's leading players simply do not have the length to win at Augusta, says Denis Pugh.
Six-time major winner Nick Faldo was the last Brit to triumph at the Masters and, 18 years on from his 1996 success, Sky Sports pundit Pugh reckons the growing size of the course means it is harder than ever for a compatriot to match his achievement.
With Tiger Woods ruled out of the contest due to injury, Pugh expects plenty of people to favour McIlroy for the win and says the Northern Irishman, unlike his fellow Brits, has the power to challenge in Georgia.
Rory seems to be the only one capable of hitting the ball high enough and far enough to compete.
Denis Pugh
"Rory is obviously the one everyone's looking to, especially as Tiger is out of the event," he told skysports.com. "The hot money will be looking towards someone like Rory.
"If we're looking for an English winner it's a little bit harder to see. I can see Ian Poulter making some sort of show because he's played well there in the past and so has Luke Donald.
"But the real problem is the guys now are playing a course that is very, very long and it tends to suit the super hitters – the Adam Scotts, the Bubba Watsons.
"In the past it was possible for Trevor Immelman to win, who is not the longest hitter, but nowadays the length of the course is quite a factor. Holes like the seventh and 11th play ridiculously long. It's a big golf course now."
Power
Pugh's reasoning is backed up by the fact McIlroy's US Open and PGA Championship wins have come on courses longer than Augusta, while Justin Rose, Graeme McDowell and Darren Clarke – Britain's other recent major champions – have prevailed on courses measuring less than the Masters' 7,435 yards.
Whilst Pugh doesn't believe big-hitting is an inherent problem on these shores, he does feel the majority of Britain's current leading lights simply do not have the power to match their American adversaries.
"The current crop, apart from Rory, are not big hitters," he said. "You can't say it's a British problem or an English problem, it's just a fact that right now some of the biggest hitters in the world are Americans.
"I don't know if that's going to continue forever,  but certainly Rory seems to be the only one capable of hitting the ball high enough and far enough to compete with them."
Big-hitting concerns apart, Pugh insists British golf is in a healthy position.
Six Brits in the top 30 of the world rankings, along with recent major wins for Rose, McIlroy, Clarke and McDowell, is something to be proud of, he says.
"The Brits are most certainly doing better abroad at the moment," he said. "You just have to look at the world rankings and the majors that have been collected.
"For some reason in this country we almost have an expectation our golfers are going to be good. These guys are performing on the highest stage of the world level and they don't really get the credit they deserve because it's almost expected.
"If we had four Andy Murrays we'd be pretty excited but we seem to pass the golfers off and say 'Faldo was the last decent player'."
However, when asked about his tip for the tournament, Pugh predictably plumped for his Italian pupil, Francesco Molinari.
"I'd be wasting my time if I didn't think that! He's had a good week's practice and he's ready to go," he said.
Check out the video above to see how Pugh and Molinari have adopted a scientific approach to prepare for the 2014 Masters.