The Masters: Kirsty Gallacher answers your questions live from Augusta National
Kirsty Gallacher answers your questions and reveals the secret to cousin Stephen's excellent display.
Last Updated: 12/04/14 1:44am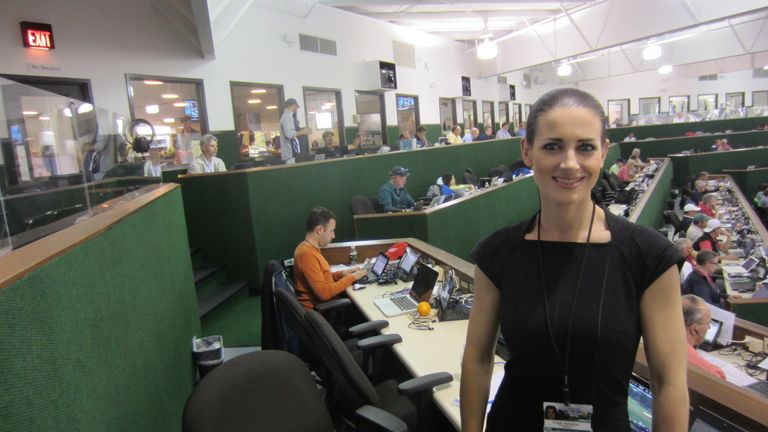 To put your question to Kirsty, use the hashtag #MastersQA.
Q: What's your favourite hole at Augusta National?
KG: The par three 16th. There's a lot of history there such as Tiger holing his chip in 2005 and it's a really pivotal and difficult hole. I love a good par three!
Q: How did they work out the cut?
KG: This year, as it was last, it's the low 50 and ties and anyone within 10 strokes of the leader who qualified for the last 36 holes. It's changed a bit down the years. It was low 40 and ties from 1957-1961 and low 44 and those within 10 from 1962-2012. Bubba reaching -7 knocked a lot of players out, including some big names such as Phil Mickelson, Sergio Garcia and Luke Donald.
Q: It's great to see Stephen playing this week but did your Dad ever play in The Masters?
KG: He did. He played in the 1970 Masters and, unfortunately, missed the cut by just a single shot. He got another invite when he was top of the Order of the Merit in Europe and, believe it or not, turned it down! It was different in those days though and it wasn't uncommon for European players not to make the trip to America.
Q: Which holes are used if it goes to a play-off?
KG: It's sudden death at the Masters so a play-off may only last one hole. They start on 18 and then alternate between the 18th and the 10th until a champion is found. We've had three play-offs in the last five years so it's quite common at Augusta.
Q: What do you think will be the winning score?
KG: Bubba leads at halfway with -7 and it all depends how they set it up on the weekend and whether he can keep his great play going. If he does, the rest are in trouble! Adam Scott won with -9 last year but he was the first winner in five years to triumph with single digits under par.
Stephen strides on
(Kirsty's cousin Stephen Gallacher is tied 10th through 36 holes after rounds of 71-72)
To be in the top 10 at halfway on his Masters debut is amazing. As I said yesterday, I'm so proud.
One thing notable in Stephen's round today was how he kept bouncing back from bogeys.
He bogeyed 4 but bounced back with a birdie at 6 and hit back with birdies at 8, 12 and 15 after bogeys at 7, 11 and 13.
It shows Stephen's great temperament. It would have been easy to get down and think negative thoughts but he kept hitting back on the very next hole or the one after that.
To have made the cut in his first Masters is huge but now he's done that I'm really hoping that he starts to think 'I can actually win this'.
So it's taking it a step further and maybe even taking a few more risks.
It would just be incredible if he could really challenge for the Green Jacket on Sunday afternoon.