Moore fool Ryan?
Dave Tindall on why Par 3 Ryan Moore may be the man to end the jinx and some exciting news about flowers.
By Dave Tindall
Last Updated: 10/04/14 12:12am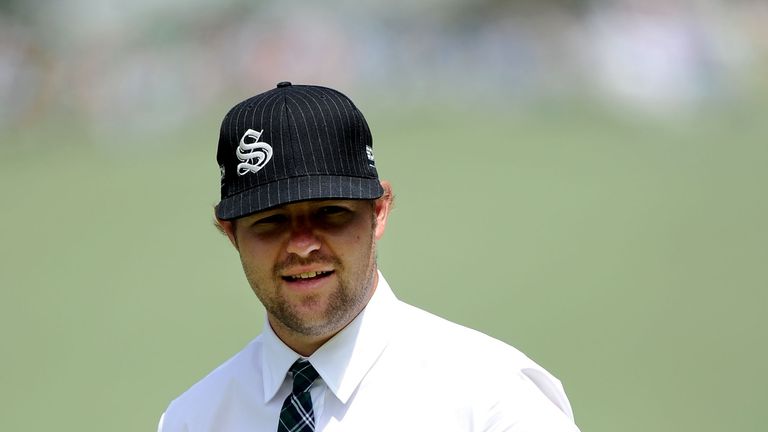 Ryan Moore is a golfer who walks to the beat of a different drum.
In these days of players signing multi-million pound contracts with a particular manufacturer, Moore won't be tied down and simply chooses the clubs he likes best.
He literally had a mixed bag when he won his third PGA Tour title last year, filling it with four different brands, while he also made waves earlier in his career for wearing his own clothing.
His taste in music is a long way from your traditional golf pro's too. Brought up in Seattle, Moore loves its strong left-field music scene while, a few years ago, when I asked him in an e-mail interview which was his favourite Woody, to my great approval he answered Allen rather than Harrelson.
So can this free-thinker go against the grain yet again this week by breaking the Par 3 jinx?
We all know that no player has ever won Wednesday's Par 3 Contest and gone on to win The Masters itself in the same week and Moore will be the latest to challenge a golfing law that stretches back to 1960.
There's a theory that everyone in the Masters field lives in fear of this hex but Butch Harmon played it down earlier today. "Some believe in it, some don't. Depends how superstitious you are," said Butch, speaking his usual common sense.
Moore was five-under standing on the ninth tee today and, had he wished, the 31-year-old American could have got himself disqualified by letting his 18-month-old son putt out for him. Instead he decided to blow fate a raspberry and made another birdie to post -6, a score not bettered since 1973.
Not surprisingly, no-one could match it.
Moore will go into battle on Thursday with a pretty decent Masters record under his belt.
He's played in the tournament five times and has never missed the cut, even as a young amateur back in 2003.
Since then he's finished 13th in 2005, 14th in 2010, 35th in 2011 and 38th last year. He also admits he loves putting on fast greens so the ultra-quick putting surfaces at Augusta National are right up his street.
As usual, the Par 3 provided plenty of light relief before the main event with toddlers brandishing toy clubs, falling over a bit and producing lots of coos from the patrons.
Scott Stallings' little 'un tried to pick up his dad's ball on the 5th green but his father skillfully blocked him off with his putter and then sank the birdie putt to show who was boss.
By that same green I bumped into Jamie Redknapp and Will Greenwood and had a bit of a chat.
It's Jamie's second Masters and Will's first and they were lapping it up although football is never far away from Mr Redknapp's mind and once the pleasantries were over his first question was "Do you know the Man Utd score?"
I didn't actually although it had only just kicked off (they eventually lost 3-1 to Bayern as you must surely know by now).
Talk then turned to Liverpool's title bid. I'm a Reds fan so am beyond excited about this season although Jamie, as we all are, is anxious about the Man City game on Sunday. It kicks off at just after 0830 Augusta time so at least it won't clash with the conclusion of The Masters as my brain wouldn't cope with the overload.
I've picked five players to carry my money this week - Rory, Sergio, Luke Donald, Rickie Fowler and Brandt Snedeker.
There were some reassuring endorsements for two of those earlier today. Fowler shot nine birdies and an eagle in Tuesday's practice round and Butch, his coach, told me that their plan was to peak for The Masters and it was all falling into place.
I also did a quick interview with European Ryder Cup captain Paul McGinley, who said his choice was Garcia due to the Spaniard being the most in form of the Euros in the early months of the season.
I hope they're both right while I might just add Ryan Moore to my stable having convinced myself that his contrary outlook points to this jinx being ended.
Flowers
Ryan Moore likes the Killers whose frontman is... Brandon Flowers.
How's that for a segue to move us on from the Par 3 winner to horticulture.
I said yesterday I'd ask my flower shop-owning friend Emma for some handy tips on how to create the beauty of Augusta National in your own garden.
As the course was a former plant nursery, each hole is named after a tree or shrub so I sent her the 1-18 with accompanying monikers and asked which of the following can you get hold of easily in the UK?
1. Tea Olive 2. Pink Dogwood 3. Flowering Peach 4. Flowering Crab Apple 5. Magnolia 6. Juniper 7. Pampas 8. Yellow Jasmine 9. Carolina Cherry 10. Camellia 11. White Dogwood 12. Golden Bell 13. Azalea 14. Chinese Fir 15. Firethorn 16. Redbud 17. Nandina 18. Holly
Emma reckons a good florist can get you the following: No.1 if a normal olive tree, No.2, No.5, No.8, No.10, No.13 and No.18.
She adds: "I think the rest are best from a garden centre! Best not to plant olive or peach outdoors though (in this country) or just in pots that you bring in. Can't imagine a peach will fruit over here!"
So there you have it. All your flowering needs answered by the voice of an expert.
Monty's picks
I rounded off today by asking Colin Montgomerie for his Masters picks. Again, though, this only followed after a good footie natter in which Monty displayed some impressive Champions League knowledge.
As for The Masters, Monty is going for Jason Day to win, with Sergio the best of the Europeans.
So that's another vote for Garcia. Sergio will tee off with his great friend Luke Donald (they've had great success in Ryder Cups together) and 2012 Masters winner Bubba Watson on Thursday.
That eye-catching three-ball goes off at 1.15pm local time, 6.15pm UK.
The first pairing (Stewart Cink and Tim Clark) are away at 7.45am here - five minutes after honorary starters Arnie, Jack and Gary declare this Masters open.
That's just under 12 hours away. Woohoo!