Masters 2013: Play Augusta with our Sky Sports experts as they take on the Shot Centre
See how to play Augusta with our Sky Sports experts as they take on the Masters Shot Centre.
Last Updated: 02/04/13 5:43pm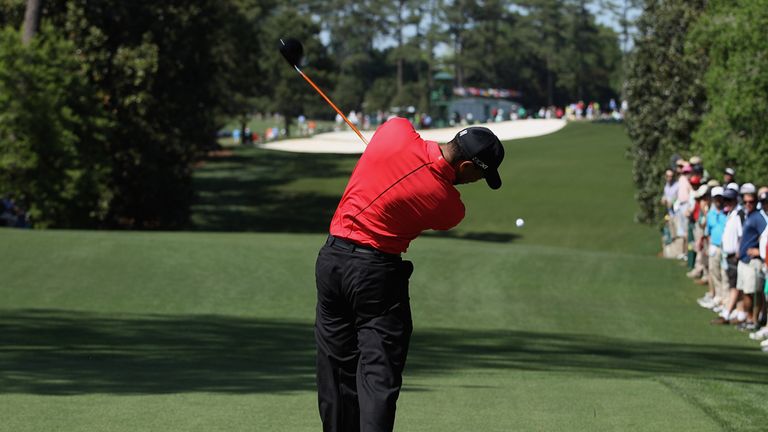 You can watch all four days of the Masters live on Sky Sports, and while we've also got our course guide we can take you right inside what it's like playing these famous old golf holes thanks to our Shot Centre technology.
Here's a look at some of our experts tackling the unique challenges that Augusta offers in the first golfing major of the year.
Hole 1 - Tea Olive
Par 4, 455 yards
This is it - the first hole in the first major of the year and nerves will be jangling for even the most experienced of old pros when they make it to the tee box. With the famous trees at Augusta flanking both sides of the fairway it's a tough task to find the short stuff. Here our Simon Holmes looks at how to play the first hole at the Augusta National.
Hole 6- Juniper
Par 3, 180 yards
An 180-yard par three from an elevated tee is hardly the kind of hole that sounds overly daunting upon first inspection, but the likes of Arnold Palmer and Jose Maria Olazavbal have made a seven on it so it is not by any means a pushover - see how Denis Pugh gets on when he tees it up in the shot centre.
Hole 8 - Yellow Jasmine
Par 5, 570 yards
A brave Denis Pugh is back in the shot centre and tackling the monstrous 570-yard par five eighth hole at Augusta. It's a huge hit to clear the bunker on the right and from then it's up hill all the way home to the green - can Denis tame this beast?
Amen Corner
It strikes fear into the heart of every golfer alive, but how can Sky Sports' Denis Pugh and European Tour professional David Horsey get on when they go about taking on the fearsome combination of the 11th, 12th and 13th holes at Augusta in our Shot Centre?
Hole 11 - White Dogwood
Par 4, 505 yards
A testing hole if ever there was one, with two lusty blows needed to get yourself into position for a par on a long par four. In this section of Shot Centre Denis Pugh is joined by European Tour star David Horsey as he gives us pro's view of tackling one of the most renowned courses in the world in Augusta - even if it is only on screen.
Hole 12 - Golden Bell
Par 3, 155 yards
On paper the short par three in the middle of Amen Corner should not be too much to fear for our Masters hopefuls, but as Denis Pugh and David Horsey explain, just the memories of years gone by is enough to cloud the mind and run up a big score. It's only a short knock across a pond but with water, some difficult bunkering and a devlish green, watch out!
Hole 13 - Azalea
Par 5, 510 yards
The final piece in Rory McIlroy's meltdown a few years back, a huge dogleg left dominates this hole and it is one of the most famous on the course - just five yards further than the 11th but sometimes even that extra stroke to get home doesn't help. See how Denis Pugh and David Horsey end their tussle with Amen Corner.
Hole 15 - Firethorn
Par 5, 530 yards
Simon Holmes and Mark Mouland take a look at the second shot to the par five at Augusta, which can often be a desperately difficult decision given the water that guards what looks like a tiny putting surface from distance.
Hole 16 - Redbud
Par 3, 170 yards
Denis Pugh and David Horsey are back to take you through the 16th hole at Augusta - the par three that will forever be remembered for Tiger Woods making that amazing chip-in back in 2005. Ian Poulter and Padraig Harrington have both hit holes in one here.
Hole 18 - Holly
Par 4, 455 yards
We have a full team of Rob Lee, Denis Pugh and Peter Oosterhuis all braving the Shot Centre to take up a double challenge of taking on the 14th hole and then the nerve-jangling finish up the hill at the famous 18th hole - where Masters Green Jackets have been won and lost.