2013 Masters reaction: A look back to player and pundit reaction after Adam Scott's win
Video reaction from the main protagonists after the thrilling finish to the 2013 Masters.
Last Updated: 15/03/14 3:08pm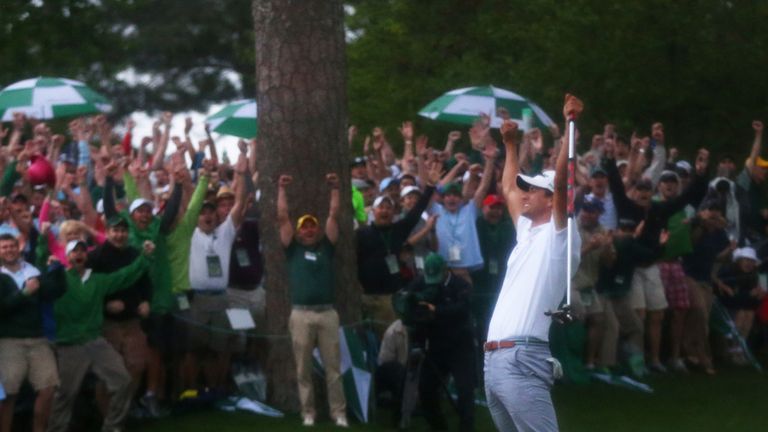 The 32-year-old had timed his charge up the leaderboard to perfection with three late birdies earning him a share of the lead after 72 holes - with compatriot Jason Day falling out of contention down the home straight.
And Scott then held his nerve in the play-off to become the first Australian to wear the prestigious Green Jacket.
Here's what the main protagonists had to say after the end of the 2013 Masters.
Adam Scott
Scott could scarcely believe it after he came through a sudden death play-off against Angel Cabrera to win his first major at the Masters. "Australia's a proud sporting nation and this was one notch on the belt that we'd never got," said Scott. "There was one guy that inspired a nation of golfers and that's Greg Norman. He's been incredible to me and all the young golfers in Australia and part of this definitely belongs to him."
Angel Cabrera
Cabrera was gracious in defeat after being pipped to the Masters title by Adam Scott in a sudden-death play-off at Augusta National. The 2009 champion had led by three before stuttering on the back nine. "Adam's a good winner. I would have been happier if I had won but he's a great player, I get along with him, we've played together in the President's Cup and I'm happy for him."
Jason Day
Australian Day admitted that he buckled under the pressure of leading the Masters after his challenge came up just short for the second time. Day, the runner-up at Augusta in 2011, was left to rue drop shots at 16 and 17. "It was really tough," Day said. "The pressure got to me a little bit. It is unfortunate that I had a shot at winning the tournament and did not make it."
Tiger Woods
The world No 1 refused to dwell on his two-shot penalty after his bid for a fifth Masters title came up short in the final round. Woods eventually finished four shots off Cabrera and eventual champion Scott. "We could do that 'what if?' in every tournament we lose," said Woods. "We lose more tournaments than we win out here on tour, so that's just part of the process and I'll go back to it."
Lee Westwood
The 39-year-old Brit was left wondering what could have been - with Westwood's failure to score well on the par-fives over the four rounds at Augusta ultimately undermining his bid for Masters glory. "I missed my chances out there," he said. I could have been five, six under after eight and I was only two under. The par fives have cost me. I haven't played them well enough."
Rory McIlroy
The 23-year-old salvaged some pride with a closing round of 69 but the world No 2 conceded a poor five-hole stretch on Saturday prevented him from collection a third major. "You have to be right on your game for 72 holes here, I played a five-hole stretch in five over and that was really it. I played nicely again today, if I just limit the mistakes from Saturday I am right there. I know I've played good enough golf here to win, it's just a matter of stringing it all together."