Bubba Watson reflects on title-winning shot at last year's Masters
Bubba Watson hopes his title-clinching shot at Augusta last year will be his Masters "legacy".
Last Updated: 10/04/13 5:25pm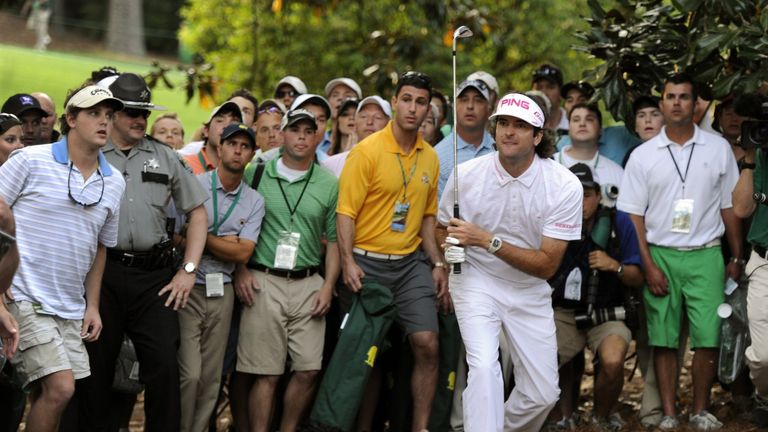 Locked together with Louis Oosthuizen after 72 holes, the odds swayed in the South African's favour when Watson pulled his drive deep into the pines to the right of the 10th fairway.
But after Oosthuizen's approach came up short, Watson pulled off one of the greatest shots in Masters history - a 160-yard wedge with 40 yards of draw that finished 15 feet from the cup to set up a winning two-putt par.
"I pulled it off once, so I should be able to pull it off again," said Watson when asked if he planned to recreate the shot next week.
"But no, I want that to live. That might be my only legacy of winning the Masters and I want it to grow, and hopefully 20 years from now it's even tougher and there were bigger trees and it was a tougher situation.
"Hopefully I hit the fairway from now on so I don't need to practise that shot any more," added Watson, who also claimed that he had previously hit three better shots during the tournament.
"The one on 17 earlier in that day was harder. I had to hit the same club (a 52-degree wedge) off a hard lie and over the trees. To get it up and to still hit it 150-something yards was pretty tough, and I did it.
"On 11 on Friday, I had a pine-straw lie in the trees again and I had to hit a low nine-iron that could go no more than 10 feet high because of the tree limbs, and I'm aiming at the water being left-handed.
"So I hit this low hook that hooked a lot, roughly 40, 50 yards again, and my caddie thought I couldn't do it because the lie was so bad. I told him to watch this. So I pulled it off.
"There was one other one on seven where, again, I was in the woods, and I had a terrible lie. I had a gap that looked like five feet wide and my caddie told me to just chip out.
"I said 'no, I can make this'. I had to hit this real high shot over this one tree and then through the gap of two other trees and somehow pulled it off again."