The Masters: Former champ Phil Mickelson nervous ahead of Augusta renewal
Phil Mickelson admits he is nervous heading into the Masters but knows he will relax once the action gets underway.
Last Updated: 10/04/13 5:17pm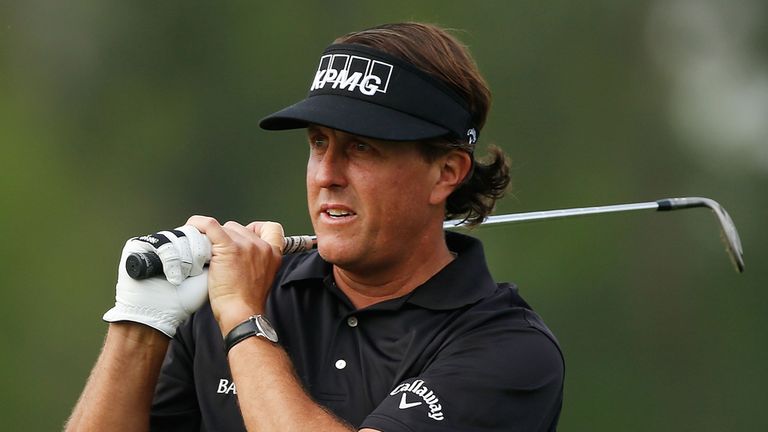 Mickelson opted not to play in last week's Texas Open as he felt the course did not offer good preparation for Augusta.
This has left him feeling nervous ahead of Thursday's opening round, despite winning the Masters three times and only finishing outside the top 10 twice in his last 14 appearances, including a third placed finish last year.
He explained: "I'm a little bit nervous heading in because I didn't compete the week before as I have for many years in the past.
"I want to play well in this tournament. I love this tournament so much and I'm nervous because I haven't been in contention since the Sunday of the Houston Open, and that's 10 or 11 days as opposed to three.
"That's what I'm nervous about, being mentally tuned in for those opening five or six holes.
"It's always a challenge when you haven't been in contention to be really mentally focused and sharp."
Relaxed
Asked why he usually does so well at Augusta, Mickelson - who will tee off alongside Louis Oosthuizen and former world number one Martin Kaymer at 1:30pm local time on Thursday - said: "It comes from knowing I don't have to play perfectly to play well here. I don't have to hit perfect shots to make pars.
"There are a lot of holes where I can make mistakes off the tee and with my short game I know I can recover. And knowing that, I relax because I don't have to be perfect.
"It's not like the US Open where if you make one little mistake it's costing you one or two shots because you don't have the ability to recover. I think that's what's exciting about Augusta National, the recovery shot. That's the most exciting shot in golf.
"One of the most exciting shots I've ever hit in my career is a recovery shot on 13 a few years ago (from the pine straw through a gap in the trees and onto the green). Augusta offers that recovery shot which means you don't have to be perfect from the tee, which I like."