Masters: Furyk sees benefit of Monday cancellation
American Jim Furyk reckons the cancellation of Monday's practice session at the Masters may benefit the players.
Last Updated: 07/04/14 9:07pm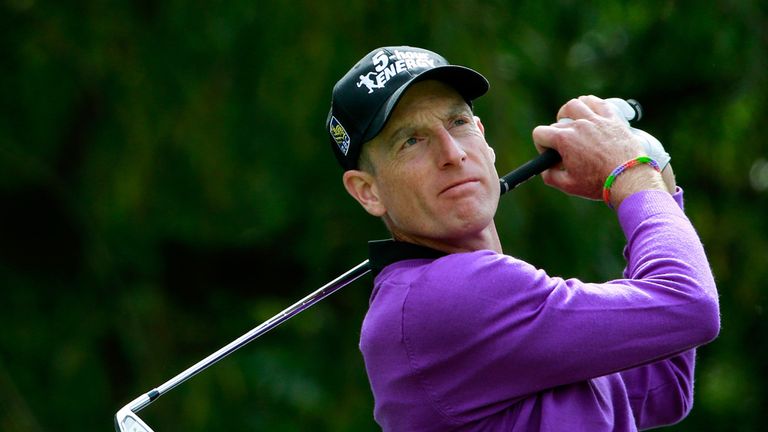 The siren sounded at 10am at Augusta National with light rain falling and thunderous clouds gathering overhead.
However, the weather forecast is much more favourable for the rest of the week and PGA Tour veteran Furyk saw the short day as a potential advantage, especially for those making their debuts in the tournament.
"All this rain will help them (Masters first-timers) a little bit in pacing themselves and not playing too many practice rounds, getting a day where they kind of get to take a breather," said Furyk.
"You're just so excited to be here and want to learn about the golf course, but by the time Thursday comes around, you're already somewhat worn out. By Sunday, you're running on fumes.
Anxious
"It will make some of the younger players anxious, but most of those they have already been up here and seen the golf course. In the long run, it could be a good thing to have half a day off."
Furyk was one of a host of players who arrived at the course early on Monday to cram in some practice before the bad weather arrived.
"I arrived at about 7.45 and was probably on the range before 8.15," said the 43-year-old, a 16-times winner on the PGA Tour who played in his first Masters in 1996 and finished fourth in both 1998 and 2003.
"The place was packed which you don't usually see on Monday morning here. I think everyone read the weather report and tried to get some in today.
"The weather the rest of the week is supposed to be nice, so I see it firming up, getting a little faster every day and they get it where they want it by the weekend."
Eisenhower Tree
Augusta National's par-72 layout has one notable change this year with the famed Eisenhower Tree no longer gracing the par-four 17th hole after being damaged by an ice storm in February, but it will not be missed much by Furyk.
"I hit that darned thing a lot," he said. "When I first started playing here in '96, that tree was much shorter and much closer to the tee, and I hit that tree; it was a really bad shot for one of the Tour professionals.
"Once that tee moved farther back and that tree grew, I had a very hard time hitting it over it with the length that I hit it. I needed to kind of work it around it or up the right side of the fairway.
"I've tried to hit it high and hard over that thing and caught it. I've tried to work around it and tugged it a little bit and caught it. The history of the tree will be missed and there's a lot of lore there, but my game definitely won't miss it that much."
Keep up to date with all the action from all four days of the Masters starting at 7.00pm this Thursday on Sky Sports 4