Masters 2014: Craig and Kevin Stadler make it a family occasion at Augusta
Last Updated: 08/04/14 11:51am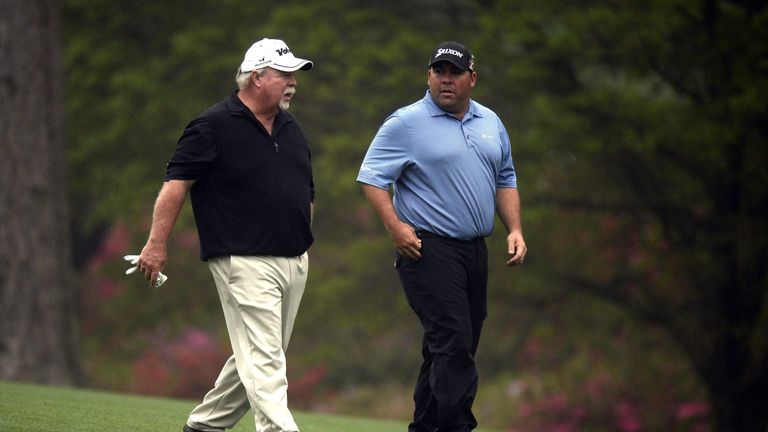 Craig and Kevin Stadler are looking forward to becoming the first father-son combination to compete together at the Masters this week.
Kevin's maiden PGA Tour victory at the Phoenix Open in February earned him a debut at the opening major of the season.
His father Craig, the 1982 champion, is planning to make his final appearance at Augusta this year and is delighted to be able to share the experience with his son.
"I can't think of a better way to do it than playing with your son in the same tournament," said Stadler at a joint press conference.
"It's awesome. This is a very, very cool thing, and thanks to Kev here, I got back to the (interview) room for the first time in about 20 years. I haven't been here since it was built, I don't think."
The elder Stadler, 60, won 12 times on the PGA Tour in addition to his Masters triumph and has taken great satisfaction from watching his son follow in his footsteps.
              
"I'm so proud of the way he's played the last three, four years," said the man affectionately nicknamed 'The Walrus' because of his portly build and fulsome moustache.
"He has been close (to winning) a zillion times and finally got it done, so this will be a very special week.
     
"I'm just going to be out there slashing around, trying to make the cut, and he's going to be trying to win the golf tournament. It's going to be a wonderful week for us."
'Smallrus'
Kevin, known on the PGA Tour as 'The Smallrus', is relishing the chance to test himself at Augusta.
"I'm incredibly excited to be here and to play, and it's going to be really, really fun to be on the inside of the ropes," said the 34-year-old.
"I feel like I know this place pretty well but I've never, ever played it (in competition). So it's going to be a blast. Just don't really know what I'm getting myself into but it's going to be really enjoyable."
Asked when he first realised the significance of his father's Masters victory, the younger Stadler replied: "I was two years old when he won it, so he was always Masters champion when I was a kid.
"It was just kind of a tag line that he earned when I was too young to recognise it. And obviously it was cool (for him) to be able to come here and play for as long as he wants the rest of his life, that's pretty special.
"It was great for me to be able to tag along and walk around here. I couldn't wait for April every year, when I was a kid, to come out here and just run rampant around the golf course. It was what I got the most enjoyment out of when I was a kid."