Masters: Augusta chairman Billy Payne suggests a 'yes' vote for women at R&A of St Andrews
Augusta National chairman Billy Payne has suggested he'll vote in favour of women being allowed to play at St Andrews.
Last Updated: 09/04/14 6:34pm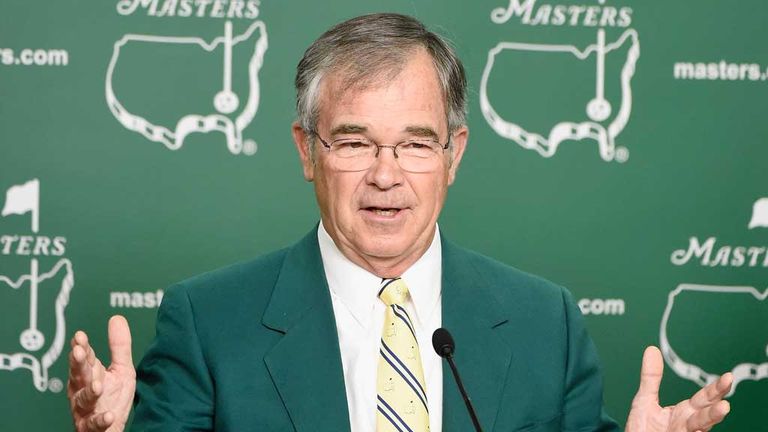 R&A chief executive Peter Dawson believes the club has "strong support" for the vote to admit women members, 260 years after it was founded.
And it looks certain there will be at least one 'yes' vote on September 18, assuming Payne travels to St Andrews to cast it in person as no postal or proxy votes will be accepted from the R&A's 2,400 members.
Augusta National, venue for the Masters, admitted women members for the first time in October 2012, with former US Secretary of State Condoleezza Rice and South Carolina financier Darla Moore becoming the first women in green jackets.
"As I've said before, we readily and joyously welcomed our lady members when that happened a couple years ago and it remains a very good decision on our part," said Payne.
"We are so delighted, and I know I speak for everyone, that they are members. I'm proud to be a member of the R&A and I bet you can guess how I'm going to vote."
Payne also revealed that there are currently no definitive plans on what, if anything, to do with the 17th hole at Augusta since the famous Eisenhower Tree was removed in February due to storm damage.
He said: "We are closely examining play and scoring on the hole this week and will make a decision after careful observation and consideration.
"And I think quite apart from the playability of the 17th hole itself, we are in the process of determining how to permanently commemorate and remember this wonderful part of our history.
"I have read a lot that has been written about the subject and quotes from other players, but nobody's made a direct suggestion to me about it."