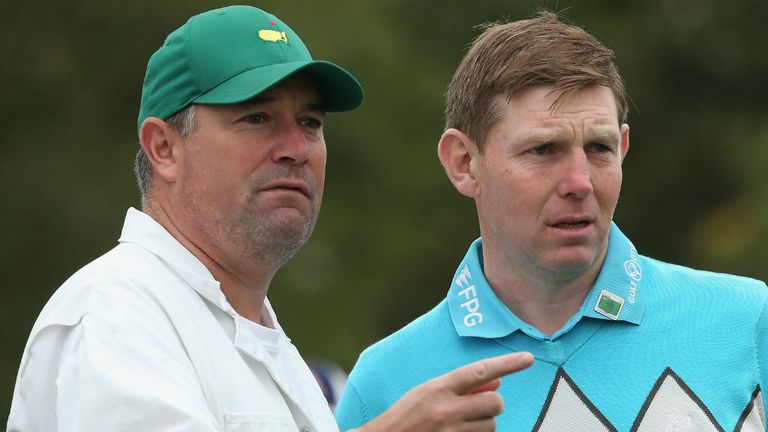 Ninety seven players were set to contest the 78th US Masters on Thursday, or in Stephen Gallacher's case the North Georgia Open.
Gallacher was making his debut at Augusta National after climbing into the world's top 50, primarily by successfully defending his Dubai Desert Classic title earlier this year.
And the 39-year-old Scot was given some interesting advice by putting coach Dave Stockton on how to cope with the pressure of playing in the year's first major championship.
"I was with him yesterday and he said remember it's just the North Georgia Open. Aye right, thanks Dave," Gallacher joked. "But he's right, you do have to try to treat it the same as any other tournament and try not to over-prepare because you know it's going to be a tough week, both mentally and physically.
"I've played four sets of nine holes with a couple of past champions (Jose Maria Olazabal and Sandy Lyle) so I can't do much more really to prepare.
"I played with Ollie and Miguel (Angel Jimenez) on Tuesday. Miguel has played 14 Masters and Ollie has obviously won it twice and played with Seve (Ballesteros) all his days so it was great to get a couple of good insights.
Rookies
"The biggest advice I got was that the flag is irrelevant here, it's a part of the green that you're trying to hit to and not getting yourself out of position.
"That's why there's so much value in playing practice rounds with past champions around here. Jose said the more you play it the more you learn, same as St Andrews was for me.
"The first time I played the Old Course I was thinking what's happening here because you're going at flags and ending up 100 feet away. Then you learn that you've got to hit it into certain places."
Gallacher is one of 24 rookies at Augusta this year - the most since 1935 - and with many of the 18 professionals in the top 50 in the world, the chance of a first winning debutant since Fuzzy Zoeller in 1979 is a distinct possibility.
"I don't have any expectations, not one," added Gallacher, whose best finish in any major is a share of 18th in the 2010 US PGA Championship. "I'm just going to see what happens and try to stay patient because that is the key around here.
"All you can do is just try to get in contention, set your game plan out and hopefully execute it then see what happens. Thorbjorn Olesen made his debut last year and finished sixth having started with a 78."