Masters: Miguel Angel Jimenez storms into the mix after the round of the week
Miguel Angel Jimenez fired a round-of-the-week 66 to set the early benchmark at three under par at the Masters.
Last Updated: 13/04/14 1:21am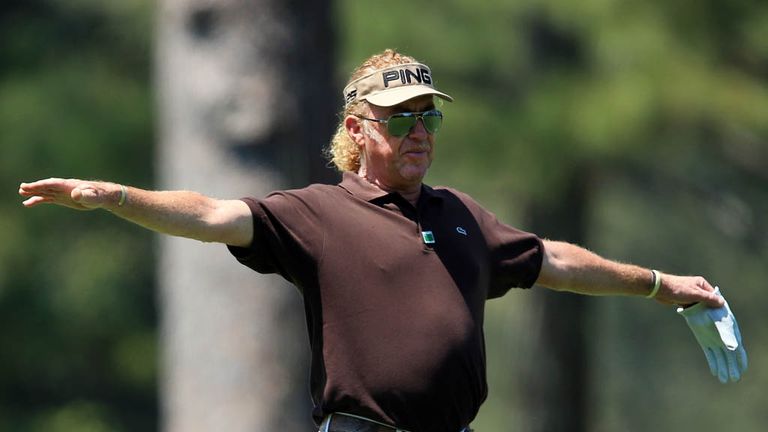 The veteran Spaniard racked up seven birdies and just a solitary bogey at the short 12th to surge through the field following Friday's disappointing 76.
Birdies at the third and fifth took Jimenez to the turn in 34 and the former Ryder Cup player also birdied the 10th, 11th, 13th, 14th and 16th to get within four of leader Bubba Watson, who was just starting his round.
"I have plenty of victories in my career and having a major in my career would be amazing," he said. "That would be the flower on top.
"If you are 50 it doesn't mean that you cannot play well. I'm still moving. I'm still flexible. I hit the ball longer than ever. I'm competitive you know.
"I don't want to commit to play the Champions Tour or any more senior events, apart from the Senior British Open, because I want to put myself in place too for the Ryder Cup. I would love to play the Ryder Cup.
"The main thing is that I'm doing what I like to do in my life and I'm enjoying it completely. It's my 26th year on Tour and probably some people say, 'that's so many years, that's got to be hard on the body'.
"No, I love what I'm doing and I hope I'm still in the same condition for another 25. I'm not going to get bored of myself!
"I feel great. I feel fantastic. I like the feeling of the knot in my stomach. I feel that thing since Monday when I got here, it doesn't disappear. I love that kind of pressure. That's why I'm still competing."
Happy
The European was soon joined on three-under by American Rickie Fowler, who also had just one dropped shot at the fourth before a strong finish saw him birdie 13, 15 and 16.
"It feels great, my goal was to get back into red figures and we did that, so I'm happy with the way I played today," he said.
"I'm really excited. To be here when Bubba won, I'm looking forward to being in the mix and see if we can get ourselves a green jacket."
Compatriot Gary Woodland had made an early move by reaching seven under par for the round through 10 holes before the wheels came off.
After getting to within three of Watson he came home in 39 shots to eventually return a 69 and level for the championship.