US star Tiger Woods praises Europe following their Ryder Cup triumph
Tiger Woods admitted the match was "already over" after he conceded the 18th hole to hand Europe an outright win.
Last Updated: 01/10/12 10:16am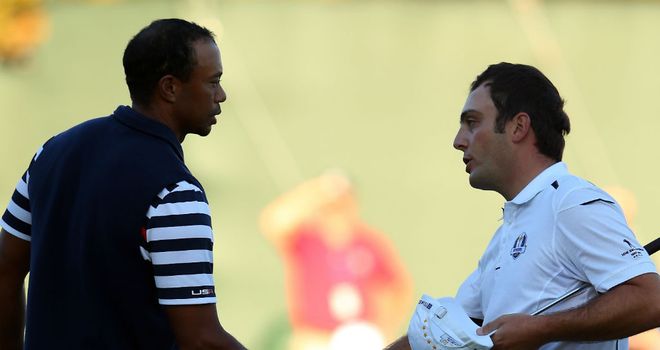 Francesco Molinari was left needing to hole his putt to ensure his match with Woods - the final of the 12 singles - finished all square.
However having missed the chance to win the hole himself - and leave the Ryder Cup tied at 14-14 - Woods knew the putt was irrelevant and waved Molinari away.
Woods, who handed headed to the 18th tee knowing the Europeans had already retained the title courtesy of a stunning fightback, said: "It was already over. We came here as a team - this is a team event.
"And the cup was already been retained by Europe, so it was already over.
"You come here as a team and you win or lose as a team, and it's pointless to even finish.
"So 18 was just, hey, get this over with. Congratulations to the European team. They played fantastic and they deserve the cup."