Ryder Cup: Tiger Wood's chances of playing seem 'non-existent', says Andrew Coltart
Last Updated: 05/08/14 11:11am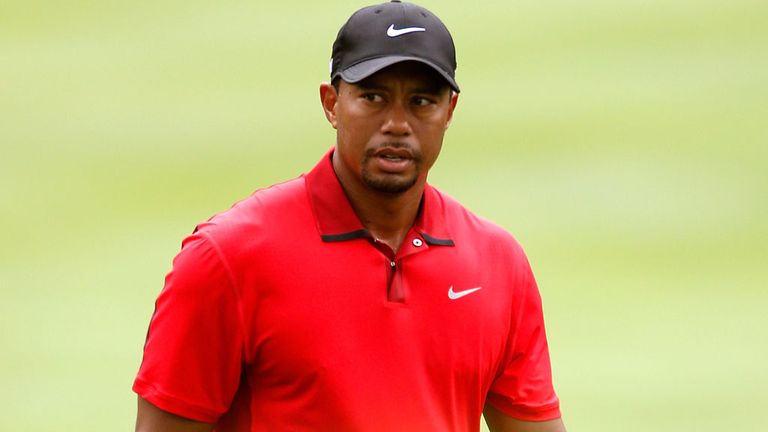 Sky Sports pundit Andrew Coltart admits he would be surprised if Tiger Woods played in this year's Ryder Cup.
The former European Tour player thinks a combination of poor form and a new back injury will put paid to his chances of teeing-up at Gleneagles in Scotland next month.
Coltart believes Woods may have returned from back surgery too early, following his operation on March 31.
Looking at it, when he was driven away on Sunday, I'd say there was no way he could play again for the rest of the year.
Andrew Coltart
He made his comeback barely three months later and is yet to show any significant form – his most recent PGA Tour top-10 came almost 12 months ago.
The former world No 1 has only ever once played in a winning American Ryder Cup team and it looks increasingly unlikely that he will earn a wild card from US skipper Tom Watson.
Tiger's latest setback came during the final round of the WGC Bridgestone Invitational in Ohio on Sunday when he limped off course while playing the ninth hole at Firestone.
He appeared to be in a lot of discomfort as he left the venue by car and Coltart says his immediate future does not appear bright.
Pain
Speaking on Sky Sports News, he said: "He looked in an incredible amount of pain and was pretty immobile as he tried to change his shoes in the car park.
"Although up until his tee shot at nine there was no indication he was suffering any back pain or spasms. In hindsight, it seems as if he has come back from this very delicate operation a little bit too soon.
"Other players have had it and they've taken eight or 12 months to come back and it seems to have backfired."
Woods looks likely to miss this week's PGA Championship and Coltart admits a similar fate awaits for the Ryder Cup.
"Looking at it, when he was driven away on Sunday, I'd say there was no way he could play again for the rest of the year," he said.
"But Woods being Woods, I wouldn't put it past him playing in the PGA. But prior to this week there were questions over whether Tom Watson would pick him for the Ryder Cup anyway.
"The form wasn't there – 215th in the FedEx Cup – and not qualifying for the FedEx play-offs would mean he would miss four or five weeks of tournament action before the Ryder Cup which would leave him ring rusty so to speak.
"Before this week I thought his chances were pretty slim but now they are almost non-existent. Mentally he's not great. He's battling with his injury, he's battling with his swing. He was grafting all week at Firestone. It wasn't coming as easy to him as it used to."
McIlroy shining
In complete contrast, Coltart believes Rory McIlory will start a short-priced favourite to win the final major of the season at Valhalla.
McIlroy has won his last two tournaments – The Open and Bridgestone Invitational – and will travel to Kentucky as the world No 1.
Coltart said: "He's brilliant right now with the driver. He took this course (Firestone) apart and with that weapon in his bag – he can hit that far and that straight – it was a dominating performance.
"And I think it'll be very difficult for anyone to challenge him. He is the stick-on favourite for the PGA, the course will suit him and when Rory's at his best, there's no one to touch him."
And Coltart also feels that results in recent weeks have made Europe favourites to retain the Ryder Cup.
"A few months ago young Jordan Spieth in America was lighting the place up, Jimmy Walker was playing great and the Americans looked pretty strong.
"But now the Europeans are coming on strong at the right time. The Americans are struggling with injury, Phil Mickelson's had a terrible year by his standards, Jason Dufner has an injured neck, Dustin Johnson's pulled out and Spieth's not now playing as well as he was.
"The signs are ominous for America and quite nice for Europe."
Watch all the action from Gleneagles over the weekend of September 26-28 live on Sky Sports Ryder Cup channel.