Long away ahead
Colin Montgomerie said Europe's odds-defying Ryder Cup triumph eclipsed his own success in 2010.
Last Updated: 01/10/12 9:13am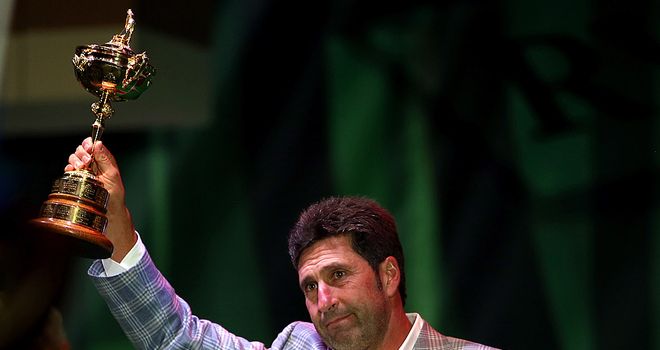 Colin Montgomerie admitted that Europe's odds-defying Ryder Cup triumph at Medinah topped his own achievements of two years ago.
The Sky Sports pundit was captain of the victorious team in Wales two years ago, which wrestled the trophy back from America's grasp with a tense 14½ - 13½ success at a rain-soaked Celtic Manor.
Jose Maria Olazabal led his team to victory by the same scoreline, but Montgomerie says the nature of this year's success - achieved from 10-6 down on the final day on American soil - eclipsed the highs of 2010.
"Everybody needs congratulating and I am delighted for my good friend Jose Maria," he told Sky Sports.
"We go back a long way and I'm so delighted that we're both here in Chicago as winning Ryder Cup captains - and both by the same score of 14½-13½.
"We go back a long way. We played in the British Amateur Final together in 1984 and we've been good friends for a long time now, that's 28 years. It's amazing to see him follow me in success and I'm thrilled for him.
"Last year was good, but this was better. It was better because it was played away from home and I'm thrilled for everybody concerned. It was much easier to win at home.
"This has been difficult with a better American team, on a course they set up. Everything was for them; the crowd and everything.
"Europe came along and beat them and it is fantastic."
Emotional
Montgomerie said everybody involved in European golf can take pride in what was achieved over the weekend.
He said everybody from Olazabal to European Tour Chief Executive George O'Grady deserved to be honoured and he also paid tribute to the inspiration of the late Seve Ballesteros.
"We all feel for our European leader in Seve at this moment," Montgomerie said.
"It is quite emotional for everybody and as a winning captain last time, I can only feel what Olazabal feels right now.
"As he said, he's won major championships, but this is number one and I feel the same way. It's quite extraordinary to see the scenes a long way from home and what we've achieved as a European Tour is something to behold.
"For us to come out on top here is fantastic and it's a statement to European golf. Everybody from George O'Grady down, as I said two years ago, should be very proud of European golf right now.
"This has been an astonishing day for Europe, a long way from home. To come here and beat one of the greatest American teams ever assembled on their own pitch is a fantastic effort.
"I'm very proud to be part of this European cause."