Jose Maria Olazabal hopes to draw on the memory of Seve Ballesteros and 1999 heartbreak to inspire Ryder Cup comeback
Jose Maria Olazabal hopes the spirit of Seve Ballesteros can inspire Europe to a dramatic Ryder Cup comeback.
Last Updated: 30/09/12 5:32pm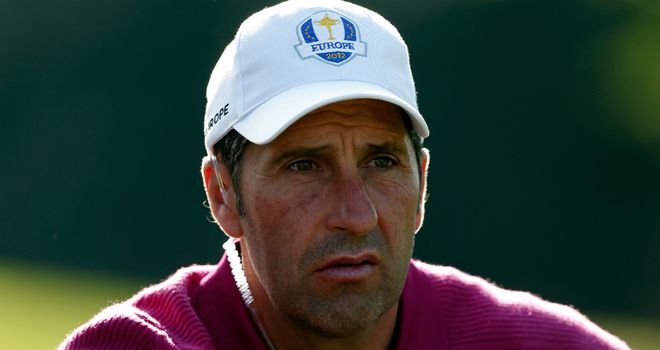 The hosts lead 10-6 ahead of the singles at Medinah on Sunday after dominating the first two days of the event.
But Olazabal, who was part of the side which squandered the same score on the final day at Brookline in 1999, insists Europe are still in with a chance.
And he will pass on some advice from fellow Spaniard and mentor Ballesteros, who died last year after a battle with cancer, to his players as they prepare for the all-important singles matches.
"I believe that it's not over. That's what I learned from Seve, and that's what I'm going to try to pass to the players," Olazabal said.
"It's not over until it's over.
"There are 12 matches to be played (on Sunday). Of course we have a tough task ahead, but it's not over. As simple as that."
Europe will wear the blue and white favoured by Ballesteros on Sunday as well as having the image of him on their bags and his silhouette on their shirts.
Olazabal added: "We are going to wear Seve's colors, navy blue and white, and actually with Seve's silhouette on the shirts."
Olazabal was left waiting on a crucial putt on the 17th hole in 1999 when the US entourage stormed the green after Justin Leonard sank a birdie bomb.
After the chaos died down Olazabal missed his putt, ultimately handing the USA an incredible come-from-behind success.
"There is three moments that I remember very vividly," Olazabal said of the final day at Brookline.
"The start that the US team had, having reds straight away winning the first few matches, the 17th green with Justin, and all the players after the matches were over in the locker room and seeing more than half (of them) crying all together there, me included."