Butch Harmon talks McIlroy, Mickelson and Woods ahead of Masters
Rory McIlroy's golf game will improve now that he is no longer world number one, says Butch Harmon.
Last Updated: 09/04/13 3:14pm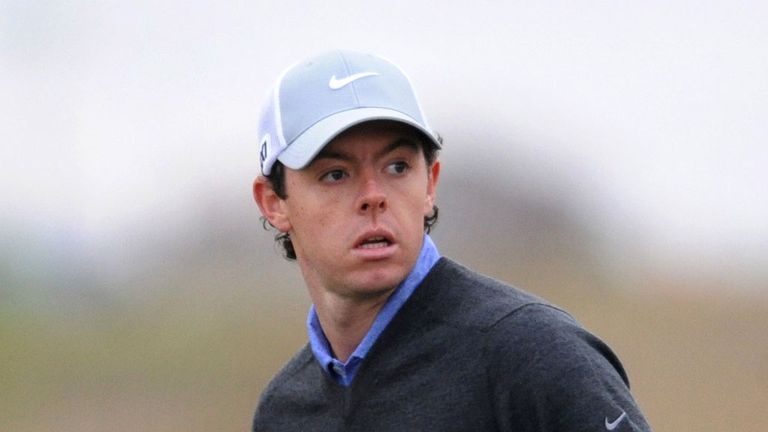 The Ulsterman ascended to the top of the rankings in March 2012 and remained at the zenith for the rest of the year after winning, amongst other titles, the USPGA Championship at Kiawah Island and the European Tour showpiece, the DP World Tour Championship.
However, McIlroy, who switched equipment in the offseason from Titleist to Nike, has made a slow start to 2013 and was recently leapfrogged in the standings by Tiger Woods, following the American's victory at the Arnold Palmer Invitational at Bay Hill.
Three-time Masters winner Nick Faldo called McIlroy's decision to change clubs "dangerous", but Sky Sports pundit Harmon reckons the pressure of being officially recognised as the world's best player was the cause of the 23-year-old's slump.
"Everyone was surprised at Rory's [drop in form] and everyone has got their own ideas why it happened. Is it the Nike equipment? Is it his girlfriend [tennis player Caroline Wozniacki]," said Harmon.
"But I think being number one in the world requires so much extra attention and so much extra time. I don't think Rory was ready to handle the off-the-course stuff and it probably took away from his time to practice with his new equipment."
"It takes a very strong-willed person to handle being number one; Woods and Greg Norman were the two that held it for longest and they are strong-minded people and they can handle everything that goes with it.
"But there is a lot of demand on you, like we saw when David Duval, Luke Donald, Vijay Singh and Martin Kaymer were up there, and I think that took Rory back a little - but I reckon he will play better now he's not number one.
"He can get away from all of the questions, the 'how come you're not doing this, how come you're not doing that', and all the demands on his time. He won't have to do the extra press conferences and I think we'll see him relax."
Extensive
McIlroy has yet to win the Masters, which you can see live on Sky Sports HD from April 11, but Woods and countryman Phil Mickelson have donned the iconic Green Jacket a combined total of seven times.
The new world number one prevailed at Augusta in 1997, 2000, 2001 and 2005, while Mickelson tasted victory in 2004, 2006 and 2010, and Harmon feels the American duo will be the men to beat this time around due to their familiarity with the Georgia venue's nuances.
"Tiger and Phil are always going to be the two favourites because the course lends itself to them and they have extensive knowledge of it," said Harmon.
"Augusta presents a lot of problems short-game wise and Tiger and Phil are two of the best in the world at that, while they know the greens and how to play holes.
"They've played there so many more times than everybody else and that's why they are so hard beat, so if you can beat both of them you are going to have a good chance to win.
"There's something about Augusta National for Woods and Mickelson - and (1992 champion) Fred Couples - and when they drive down Magnolia Lane something happens to them.
"They could not be playing well going in there but when they go into that clubhouse and walk in that champion's locker room, there is just something inside of them that gets going."
Phenomenal
Fourteen-time Major champion Woods notched his third title of 2013 at Bay Hill, adding to triumphs at the Farmers Insurance Open in February and the WGC-Cadillac Championship in March.
The 37-year-old, who is just five victories shy of Sam Snead's PGA Tour record of 82, dropped below the 50-mark in the world rankings during his much-publicised malaise, but Harmon says the California-born player's hunger to improve has allowed him to rise again.
However, the New Yorker, whose father, Claude, seized the Master trophy in 1948, says Woods could still encounter problems at Augusta, where he finished tied for 40th last year, 15 strokes behind winner Watson.
"There has never been a golfer like Tiger Woods," said Harmon. "I think Jack Nicklaus is our greatest champion because he has won more Majors than anyone, but I've never seen anybody who could play golf like Tiger.
"I think everything he does is phenomenal; he would talk to all the great stars and ask them how they did things. He has always been willing to learn, and had this desire to get better. He is never satisfied and that's one of the reasons he's so good.
"I think we are starting to see Tiger feel a lot more comfortable with his golf swing and with his ball striking - but I think he can be a lot better, and he still has to show that he can drive the ball the way he used to.
"His natural shot now is a normal little left-to-right fade and it looks like he has tried to eliminate the left side of the golf course to allow himself to be more consistent.
"But when you get to Augusta you know you've got a lot of dog legs where he's going to have to turn the ball from right to left - but Tiger is looking pretty darned good right now."
Sky Sports will show all four days of the Masters (April 11-15) live and in high definition, while there will also be special 3D coverage for certain portions of the event. Check out our Augusta microsite here for more details, as well as news, features, blogs, player profiles, and videos.