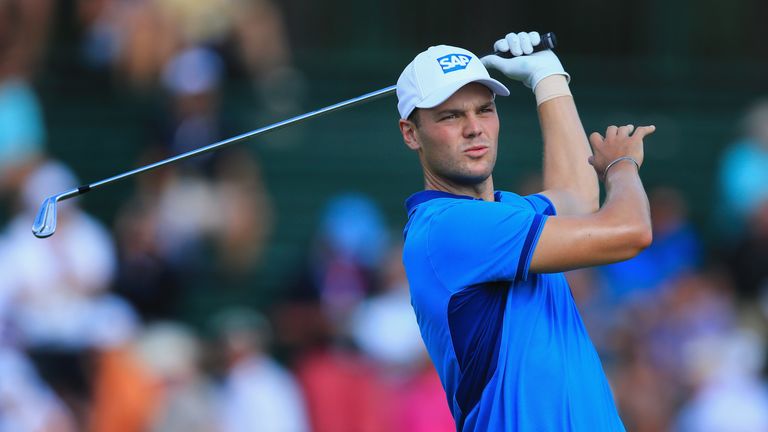 A confident Martin Kaymer could continue his 'phenomenal' form and go 'wire to wire' for US Open glory, says Butch Harmon.
Kaymer leads the second major of the year by three-shots, after producing a burst of birdies on the back nine on day one at Pinehurst No 2 in North Carolina. 
The German, who won the prestigious Players Championship last month, negotiated the tricky course with excellent timing. He birdied at 14, 16 and 17 to lift him to five under and he calmly rolled in a nine-foot par putt at the last to complete a back-nine 31 and post a superb 65. 
Butch Harmon believes the 2010 US PGA Champion can push on over the next three days of golf, but must negotiate the increasingly difficult conditions on this vintage-style course.
"I think 65 was a phenomenal score, you'd take 5-under right now and you'd never play another round," said the Sky Sports expert.
He's playing as well as I've ever seen Martin Kaymer play.
Colin Montgomerie
"I don't even think anywhere near five under will win this championship but it was a great round by Martin Kaymer.
"Today he was defiantly the man. Not only did he shoot the best score of the day but he also probably played better than anybody teed a green.
"I think we're seeing a Martin Kaymer that plays with so much confidence now. On a golf course like this, if he can continue to make putts, he could go wire to wire. 
"The golf course is going to get more difficult as the week goes on. It's going to get faster and firmer, they're going to hide the pins and birdies are going to be harder to come by."
Style
Kaymer's resurgence, which has seen him climb to world No, 28 after three years of perplexing form since holding the No.1 position for eight weeks in 2011, has been acreditted to him returning his initial shape of fade off the tee. In an attempt to win The Masters the 29-year-old tried to start drawing the ball to little success. 
"It took time for him to get back and do that consistently and then feel comfortable in the heat of the battle, added Harmon.
"At the TPC in Jacksonville he was cruising to win that and then the rain delay made it a little bit exciting but in the head he hit the shots he needed to."
Also backing Kaymer for a successful week was fellow Sky Sports expert Colin Montgomerie. The three-time US Open runner-up  said: "Martin Kaymer's display over that back nine, especially, was very, very good. To birdie 14, 16, 17 and get a great up and down at the last – what a great a finish.
"There's a little bit of a gap now and he's playing in the morning tomorrow where the conditions were easier there's no questions, and he could go forward from here. 
"He's playing as well as I've ever seen Martin Kaymer play."