Team USA
Check out our profiles of the 2013 American Solheim Cup team.
By Matt Cooper
Last Updated: 12/08/13 4:08pm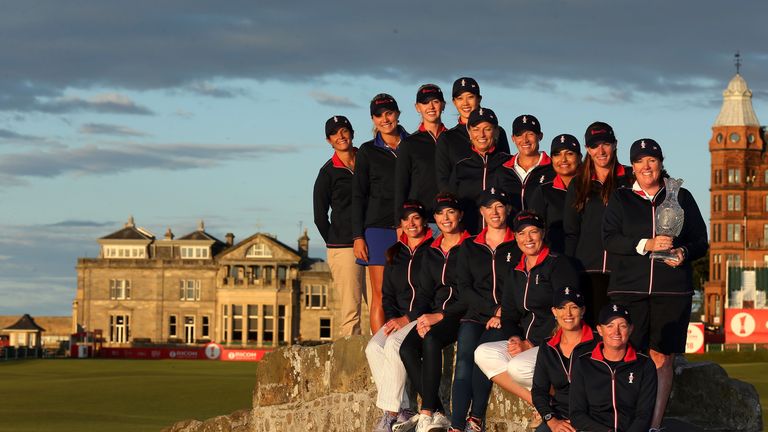 Paula Creamer
The 26-year-old from California is nothing less than one of the Solheim Cup's greatest ever players. With the stars and stripes painted on her cheeks she has amassed a stunning record of 11 wins and just three losses in 19 matches. Her pride in representing Uncle Sam takes her already world class game to another level entirely and she will be desperate to regain the Cup for America.
Stacy Lewis
The 2011 Kraft Nabisco Championship winner, the 2012 LPGA Player of the Year, the world number one for four weeks earlier this season and now the 2013 Ricoh Womens's British Open champion so there is little doubting the 28-year-old's class. However, her Solheim Cup debut was disappointing (one win, three defeats). She's a fighter though. She defeated scoliosis (a severe back problem) and is likely to score more points in Colorado.
Cristie Kerr
Undoubtedly one of the toughest competitors in the ladies game, the 35-year-old has 16 LPGA titles to her name, two of them major championships. And yet in six Solheim Cup appearances she has struggled to assert herself. She performs well in fourballs, but less so in foursomes and has a very poor singles record. Will be keen to avenge 2011 after injury forced her to concede her match on the final day.
Angela Stanford
The 35-year-old Texan is a five-time winner on the LPGA, most recently in last year's prestigious HSBC Champions event. But although she is tour veteran with plenty of experience, her Solheim Cup record is poor. She has won just three, and lost seven, of her 13 matches in four appearances. Worse still she lost all three of her matches in the 2011 match at Killeen Castle.
Brittany Lincicome
Nicknamed Bam-Bam, the 27-year-old from Florida is something of an enigma. She is a major championship winner (she claimed the 2009 Kraft Nabisco Championship with an audacious eagle on the final hole), but she is yet to get to grips with the Solheim Cup. She claimed only half a point from three on debut in 2007, and in both 2009 and 2011 she won two and lost two of her matches.
Lexi Thompson
One fact tells you all you need to know about Thompson: she qualified for her third US Women's Open at the age of just 14! Now an 18-year-old veteran she has claimed victories on both the LPGA and LET. She is yet to contend for a major championship but the Solheim Cup should play to her big-hitting, birdie-making strengths and might act as a springboard to more success.
Jessica Korda
There was a sense in the 2011 match that the Americans were in transition and that the likes of 20-year-old Korda would revitalise the team. She claimed a first LPGA victory in the Australian Open in early 2012, defeating no less than five other players in a play-off so we know she has nerves of steel. She also knows her own mind enough to sack her caddie midway through the third round of this year's US Open! Daughter of the 1998 Australian Open tennis champion Petr Korda.
Brittany Lang
Back in 2005, whilst still an amateur, 27-year-old Lang was runner-up in the US Women's Open. She turned pro almost immediately and was successful without ever improving on the second placed finish. Until June last year when she emerged triumphant from a four woman play-off in the Manulife Financial LPGA Classic. She played in the last two Solheim Cups, scoring two wins and three losses in her seven matches.
Gerina Piller
After a few years on the Symetra Tour the 28-year-old from New Mexico has made a solid start on the LPGA. She's missed just two cuts since last year's Ricoh Women's British Open and her inclusion in the team is due entirely to that consistency of performance. A big hitter from the tee she is married to the Web.com Tour professional Martin Piller.
Lizette Salas
When the Solheim Cup was last played in 2011 Salas had made only two starts on the LPGA and only just turned pro, but the 24-year-old gained a card for 2012 and her consistency, especially in the majors (three top 25 finishes), has earned her probably the biggest turnaround in fortunes during the two years between matches of all 24 players heading to Colorado.
Morgan Pressel
The 25-year-old from Florida is second only to Paula Creamer as a Solheim Cup specialist in this team. Her debut in 2007 was a little nervous, but she won two and half points from three in 2009 and four from four in the defeat at Killeen Castle in 2011. Her form in the last two years has been below her best (she won the 2007 Kraft Nabisco and has twice been second in other majors), but better recent results, including a fine British Open, came just in time to earn a call-up.
Michelle Wie
Hailed as the future of women's golf, she looked to be living up to the hype when, just 14, she teed it up with the men in the PGA Tour's Sony Open in 2004 and missed the cut by just a single shot. However, she struggled in the spotlight after that and it took until 2009 for her to claim a first ladies title. She has added another, but has not played well for a while and frets over her putting. She had a fine debut in 2009 (three wins and a half), but won only one point in four in 2011.
Meg Mallon - Captain
The 50-year-old from Massachusetts is a four-time major champion and won the Solheim Cup six times in eight appearances. She also has experience as assistant captain, having helped Beth Daniel during the 2009 American victory in Chicago. Her decision to pick Dottie Pepper and Laura Diaz as her own assistant captains is destined to be viewed as genius or disastrous - the two fell out after often-controversial Pepper described the 2007 American team as "choking freaking dogs" during commentary on a match Diaz was playing.