Trish Johnson: Women's golf needs role models
Trish Johnson thinks a lack of role models and the internet are key factors in the decline in women playing golf
By Siobhan McCall
Last Updated: 01/04/14 6:02pm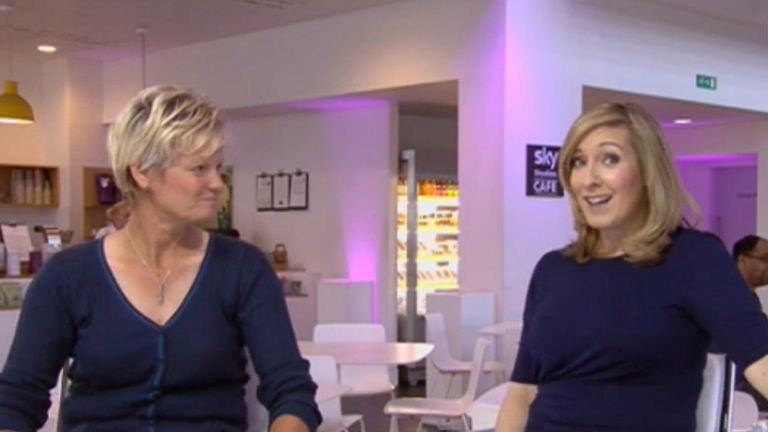 Sky Sports contacted 254 Golf clubs over the last month and 75% reported a decline in female membership. Johnson, who has won 18 Ladies European Tour titles, said that the sport is not viewed in the same way by women as men and she believes that female role models are needed to increase its profile.
"Golf is a trendy sport but it's only trendy to men because the footballers play it, the actors play it," she said. "Justin Timberlake - he adores golf.
"But you name me an actress or even a female sports star whose sport isn't golf who says what a great sport golf is. There's no one for the young girls to look at but for the guys there's hundreds of them.
"Catherine Zeta Jones for example she's a bit older as actresses go but she's pretty world famous. She loves golf, she is a huge golfer. It's up to someone, whether it's the Associations, to tap into that.
Johnson added that the internet and social media also had a huge impact on the perceptions of young girls and that without women they can identify with promoting the sport, females do not want to be associated with it.
"I honestly think the internet is a massive problem. Young girls are on social media all the time, they worry so much about what people think. And because everything is covered through social media, they don't want people knowing that they are doing something like this. It is really quite sad.
"Perception is a huge thing. In years gone by we just didn't give a damn. You would just do what you wanted to do. Sport in general back then, it didn't need to be trendy or cool. I understand that the internet is incredibly important but I think for sport it has killed it."
However, she believes that Charley Hull could have a really positive influence if she continues her impressive start to her career. The 17-year-old claimed her first Ladies European Tour title when she defeated France's Gwladys Nocera in a play-off to win the Lalla Meryem Cup last week.
"At the moment she's a good role model, she's incredibly good at what she does. She's very attractive, she dresses up a lot," Johnson stated.
"If Charley did become world number one, the TV coverage will increase because why on earth wouldn't you be showing the world number one. There is a lot of interest in showing the Men's Tour because we happen to have 10 of the top players.
"So maybe Charley could be that role model but she would have to become massively successful. It would be really interesting to see what would happen then and in fact if that didn't increase the coverage then we might as well just give up. Good television coverage is the only way forward for the women's game."