Paul McGinley discusses form, commentating and West Ham in latest Q&A
Paul McGinley talks about his form, the benefits of commentating, and West Ham in his latest Q&A.
Last Updated: 07/01/14 2:01pm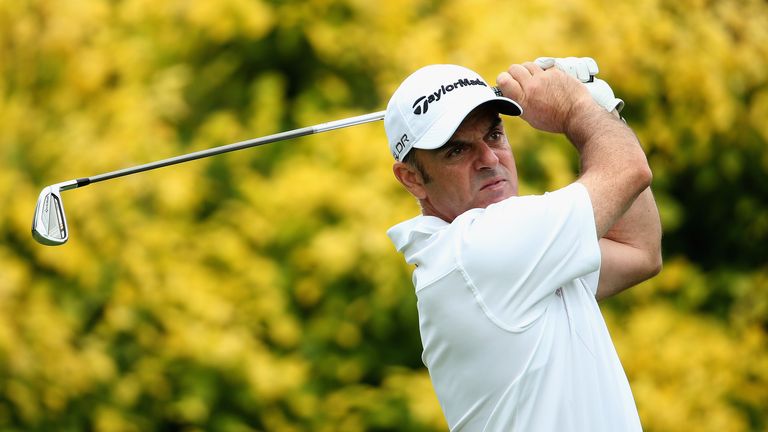 The Irishman - who has won four times on the European Tour - says he hopes to build on his form at the backend of the 2013 season, which included an eighth-placed finish at the Wales Open in September.
McGinley also explained why playing on courses in South Africa and Abu Dhabi will help potential Ryder Cup stars ahead of September's showdown in Glenegales, and why Henrik Stenson's sensational 2013 season could be replicated this year.
Plus, with struggling West Ham about to embark on a two-legged League Cup semi-final with a powerhouse Manchester City side, the 47-year-old explained why things could turn around for his beloved Irons...
Did you have a good Christmas? Was it easy for you forget about golf for a while?
PAUL McGINLEY: Not too bad at all. My birthday is just a week before Christmas so it all came together nicely. It has been such a busy year that I was very tired around the festive period so I didn't find it difficult to switch off during my family time.
What are you most looking forward to golf-wise in 2014?
PM: The Ryder Cup is obviously going to be massive for me but I am also looking forward to competing on tour. I feel that I played quite decently during the second half of last season but didn't manage to get too many big results, so I would like to be a bit more competitive.
With Henrik Stenson enjoying a staggering 2013 and Rory McIlroy returning to form with a win in Australia, do you expect an almighty battle for Tiger Woods' world number one spot this year?
PM: A lot of players have found a bit of form again and as well as guys like Henrik and Rory, Justin Rose will have the confidence from becoming a Major winner at the US Open. Ian Poulter, too, had a great finish to the season, so we have a number of Europeans who will start the season with a spring in their step for various reasons.
Stenson won both the FedEx Cup and the Race to Dubai last year. Do you think it will be difficult for someone to replicate that in 2014?
PM: Perhaps not. A couple of years ago Luke Donald won the Order of Merit on both sides of the pond and everyone said: 'That is unlikely to happen again' but, sure enough, the following year McIlroy did the same thing. It's like world records: once guys see barriers being broken down and believe things are achievable they can do great things. So I wouldn't be surprised to see someone match Henrik.
Most of the tournaments at the start of the European Tour season are being played on courses which are probably dissimilar to Gleneagles. Will that make it difficult for you assess players?
PM: I don't think so. Form is form and if you are showing it, wherever that may be, it is vital. One of the great things about the European Tour traveling from Asia to Australia to Europe is that players get to encounter lots of different grasses and conditions, and that is one of the reasons our guys have become so rounded and had so much success over the past decade ot two. Playing around the globe will help players ahead of the Ryder Cup.
What will be your key roles over the next few months?
PM: I am still at the stage of observing players and seeing how my team might formulate, and that will continue at the Abu Dhabi Golf Championship later this month, when lots of potential European Ryder Cup players will be competing against each other. I am going to be playing in Abu Dhabi and in Qatar the week after which will give me a chance to communicate with my prospective players. Plus, as I am still competing, I can experience the conditions the players are dealing with, which will help me assess things.
We have seen you take up a spot in the Sky Sports commentary booth recently. Is that something you are enjoying?
PM: Yes. It has given me a great insight into top-level golf in a different way. I've had the chance to watch players play four rounds and see how they go about it. I now know how certain players play golf courses and win tournaments, which has been of great benefit.
And finally, as a West Ham fan, how do you feel about the club's current form?
PM: I've been to West Ham a number of times over the Christmas and New Year period and we are obviously going through a tough time at the moment but, fingers crossed, some new signings in January and a clearing up of the injuries, we can improve. I think that if we can get a good result at Manchester City and give ourselves an opportunity to get to Wembley in the second leg, that's the main objective.