Ollie: Experience will be key
Jose Maria Olazabal says Europe's players are more comfortable playing in the United States than in the past.
Last Updated: 25/09/12 7:44am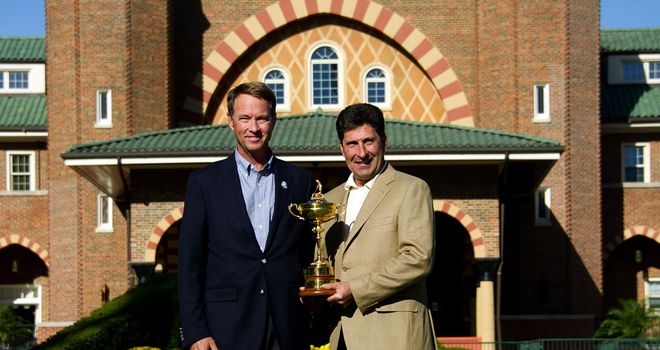 Jose Maria Olazabal says the European players are more comfortable playing in the United States than in the past.
The Spaniard, who leads the Europe side into battle this week, believes they will benefit from having so many players who are PGA Tour regulars on the team.
Only three players - Miguel Angel Jimenez, Paul Lawrie and rookie Nicolas Colsaerts made the once-feted official flight across the atlantic this year, in company with captain Olazabal and the trophy.
Ian Poulter, Justin Rose, Luke Donald, Rory McIlroy and Lee Westwood regularly ply their trade Stateside and Olazabal hopes their experience will hold the team in good stead at Medinah.
"It's completely different to, say, 15 years ago," he said. "Some of the European players have their base here, they play the tour, they're very familiar with the golf courses and their opponents.
"So in that regard they feel more comfortable with the whole situation of coming to the United States to play the Ryder Cup.
"It has changed in that respect, and also they have realised over the years they can compete with the players over here. That, somehow boosts your confidence and that plays a very important part when you're playig matchplay."
Europe have won four of the last five Ryder Cups but Olazabal insisted that record would have little bearing on the outcome this week.
"This is a new Ryder Cup. We are playing here against a very strong team, playing away," he added. "The crowds are going to be rooting for the home team really strong, so we have to be prepared for that.
"I've said all along both teams are pretty even, and I think it's going to be a close match. From that point of view I don't see a favourite, and it will have to be decided on the golf course."