Ryder Cup: Paul McGinley names Stephen Gallacher, Ian Poulter and Lee Westwood as wildcard picks
Last Updated: 03/09/14 8:39pm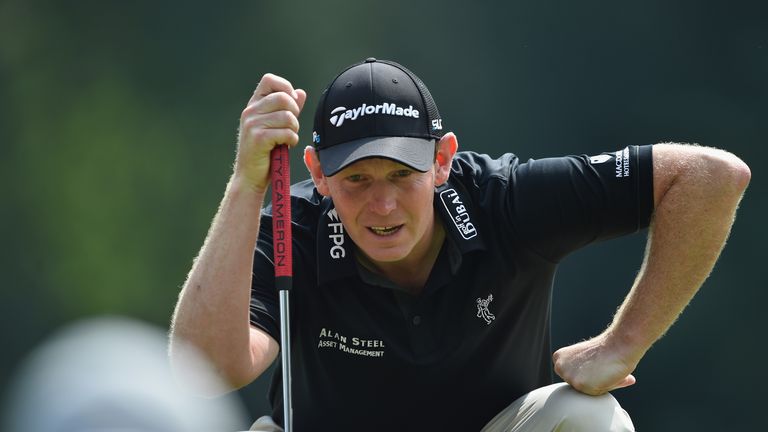 Stephen Gallacher, Ian Poulter and Lee Westwood are Europe captain Paul McGinley's wildcard picks for the 2014 Ryder Cup.
McGinley had narrowed his selection pool down to five names, with former world No 1 Luke Donald and Italian Francesco Molinari the unlucky players who will miss out on this year's highly-anticipated showdown at Gleneagles.
Gallacher is the only Scot in the team and his selection will no doubt add to what is expected to be a passionate atmosphere at Gleneagles when the tournament starts on September 26, live on Sky Sports.
The 39-year-old – nephew of former Europe captain Bernard Gallacher – missed out on an automatic spot in the team by just one stroke following his third place in last weekend's Italian Open.
On his three Ryder Cup selections, McGinley said: "I think we have three players that will add a lot to the nine already qualified and make the European team as strong as it needs to be to take on the might of America."
McGinley admitted Gallacher's sterling performance in Italy was a telling factor in selecting the Scottish rookie.
I think his performance last week in Italy under the spotlight was huge. He'll look back at the end of his career whatever he may go on to achieve as being one of his highlights.
Paul McGinley
He added: "I think his performance last week in Italy under the spotlight was huge. He'll look back at the end of his career - whatever he may go on to achieve - as being one of his highlights.
"What he did, how he did it, all credit to him. I spoke last week about dashing for the finish line and being gravitated towards the finish line, being excited about the finishing line and Stevie did all of those, so all credit to him.
"It's very proud for him being Scottish. Again I'm lucky, having played a Ryder Cup in my home country I know what it's going to be like for Stevie, how proud he will be and his family as well too."
Gallacher was understandably thrilled, telling Sky Sports News HQ: I can't wait to get going. Making my debut, there is nowhere I'd rather be going than Gleneagles. It's a course I really enjoy, I like it. I just can't wait to get up there," he said, adding that he knew where to go for advice about playing one of the biggest events in team sport.
Poulter's selection will not surprise many despite the 38-year-old's poor form this season. Of players in the top 40, only Tiger Woods has picked up fewer world ranking points than Poulter this year.
But the 12-time European Tour winner has been part of three Ryder Cup winning teams and boasts the highest win percentage (80%) of any player who has played at least 15 matches in the tournament.
The Englishman is in typically bullish mood, telling Sky Sports News HQ: "I'm very, very excited – Gleneagles is going to be an incredible week. The American side are very, very strong and very tough to beat. But I think with Paul's picks and the nine guys who had already made the team, we are going to be strong.  We're going to do the job."
Westwood's participation in the event means he will take part of his ninth Ryder Cup, a run which dates back to the 1997 tournament in Valderrama.
The 41-year-old's form has been indifferent this year but appears to have turned a corner after a final-round 63 at last month's WGC-Bridgestone Invitational in Akron, Ohio.
Pride
McGinley said: "Despite the fact that he has played in so many Ryder Cups – and I think this is going to be his ninth appearance - there was a real sense of pride with Lee that he'd made it on the team."
Donald's omission from the team is a big call for captain McGinley - he has an excellent Ryder Cup record, taking 10.5 points out of a possible 15.
"That was a very difficult conversation for a number of reasons – personal more than anything else to be honest," McGinley said.
"My relationship with Luke is very close - when played his first ever Ryder Cup match I was his partner in 2004. Every Ryder Cup he's been involved in I've been involved in - the only one that both of us missed recently was 2008.
"He's been an incredible performer over the years and his record in the Ryder Cup is absolutely outstanding. He's a player that will no doubt go on to make many more appearances in the Ryder Cup and it was a very, very, very difficult call for me to make but one I had to do in the interests of the European team."
Molinari also missed out but was praised by McGinley for accepting the decision with grace.
He said: "Francesco Molinari was a really serious contender. We gave him a lot of thought, a lot of consideration and again, just like Luke, incredibly humble and incredibly accepting of my decision on the phone even though it was a difficult call to make.
"I could not have asked two guys to accept the decision in a better way and I think it speaks volumes about them not just as golfers but as people as well."
Watch confirmation of Tom Watson's US wildcard picks at midnight. Coverage of the event proper starts on September 26 on channel 405, our dedicated Sky Sports Ryder Cup channel.