The Open: Rory McIlroy struggling to make cut at Muirfield after first-round 79
Rory McIlroy blamed mental errors for his woeful first-round 79 at the Open Championship.
Last Updated: 19/07/13 2:49pm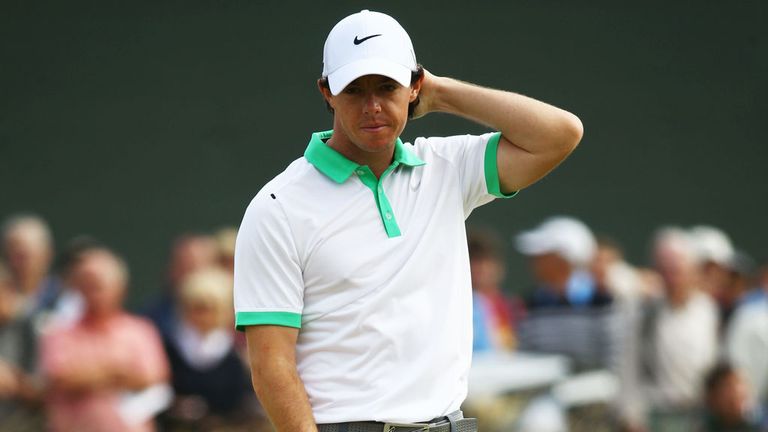 The world No 2 was at odds with his swing and his confidence, blaming "silly mental errors" for a woeful performance that leaves him with a mountain to climb to be around for the weekend.
The two-time major winner dropped shots at the fourth and fifth, but he clawed a shot back at the seventh before his all-round game unravelled after the turn.
McIlroy bogeyed 10 and 11 and took six at the par-four 12th, and although he converted a nice approach to four feet at the next, he made another six at the 15th after his putt from the front fringe rolled 20 feet past the pin and into a rear bunker.
"I don't know what you can do," said McIlroy, who has recorded only one top-five finish since his highly-publicised switch to Nike at the turn of the year.
"You've just got to try and play your way out of it. But it's nothing to do with technique. It's all mental out there. And then I just need to concentrate, obviously.
"But sometimes I feel like I'm walking around out there and I'm unconscious. I just need to try to think more. I'm trying to focus and trying to concentrate.
Hard to explain
"But I can't really fathom it at the minute and it's hard to stand up here and tell you guys what's really wrong.
"I felt like I had made a lot of progress but then you shoot a round like this and you go back to the drawing board. I'm definitely under-thinking on the golf course, maybe over-thinking it off of it.
"I feel like I got off to a decent start, made a couple of silly mental errors on the fourth and fifth, a good two on seven and had a chance to get back to even par on nine. The start of the back nine was not very good.
"Going left of the pin on 12, when I had no right to be going anywhere near that pin, that's just thoughtless. It's just so brain dead.
"Seriously, I feel like I've been walking around out there like that for the last couple of months. I'm trying to get out of it. I just don't quite know why.
"I felt like I struck the ball okay. So as long as I can somewhat get my mind in a better place, I can go out there and try and shoot a good score on Friday.
"I want to try to be here for the weekend. But the thing that I need to do is just go out there and freewheel it and try and make birdies and try and play with that little bit of whatever it is I have usually.
"That's what I've to try and go out and do, even though it's going to be tough to make birdies out there obviously."