US Open: Rory McIlroy lambasts criticism of Erin Hills rough
By Keith Jackson
Last Updated: 14/06/17 9:52am
Rory McIlroy has hit out at critics of the Erin Hills course and feels the layout will suit his game as he chases a second US Open title.
Some of the field in Wisconsin have expressed concern over the deep, thick fescue grass which lines every hole, with Kevin Na in particular keen to demonstrate the difficulties of extracting his ball from the worst of the rough.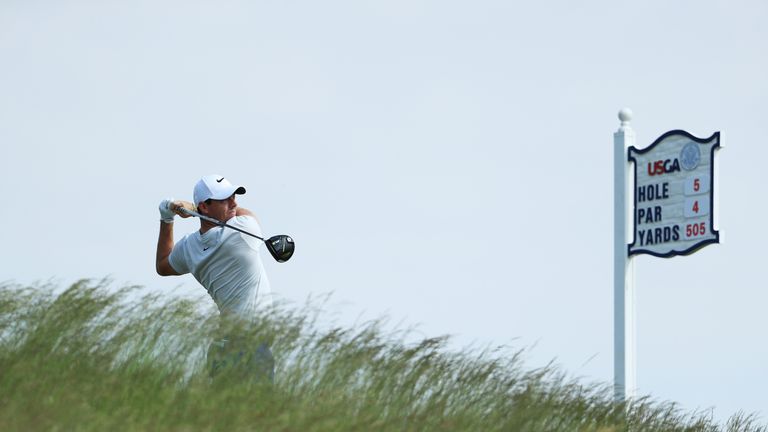 Heavy rain in the area has also forced the USGA to mow down some of the fescue as certain patches of it were borderline unplayable in the wet, but McIlroy believes players should "pack up and go home" if they were unable to hit the widest fairways he has seen for the event.
When informed at his pre-tournament press conference that the fescue was being cut down on the fourth, 12th, 14th and 18th holes, McIlroy responded with dismay and said: "Really? We have 60 yards from left line to right line. You've got 156 of the best players in the world here, if we can't hit it within that avenue, you might as well pack your bags and go home.
"These are the widest fairways we've ever played in a US Open. Even the first and second cut is another 10 yards on top of that. So if you've got 50 or 60 yards to hit into and you're complaining about the fescue that's wider than that, I don't think that's an issue.
"I get that it's thick and whatever, but it's a hazard. If you put red lines just right along that people wouldn't complain, it's a hazard. It's the US Open, it's supposed to be a tough test, and if guys can't put it into play within a 50-yard zone then I don't think they've got much to complain about.
These are the widest fairways we've ever played in a US Open. You've got 50 or 60 yards to hit into and you're complaining about the fescue that's wider than that, I don't think that's an issue.
Rory McIlroy
"From what I've seen so far, it's really good and I feel like you can be aggressive off the tee and with your approach shots. If you do miss a green, it's not that you're going to be chipping out of the thick rough. It goes in these collection areas and run-offs. It's a little bit of a different challenge than what we faced in US Opens in the past.
"I don't think it's a secret that I feel like my driver is one of my biggest weapons in my bag. If I can get that in my hands more regularly, and I think if the field has to hit driver more, that plays into my hands, too. I wasn't crying when I saw that rain, it's a long golf course and it's only going to play longer. That benefits a few guys, and luckily I'm one of them.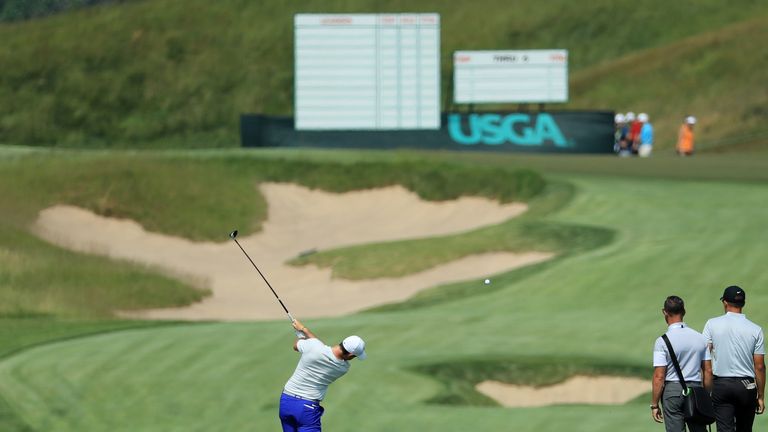 "At Chambers Bay, we hit a lot of drivers but it was obviously very dry there. Last year at Oakmont was a little bit of a different story, it's more of a tactical sort of golf course, even though it was wet and played quite long, too.
"But I think driving the golf ball is a big skill in golf, and I feel like this golf course definitely tests that. And you need to have driver in your hand here if you want to take advantage of the golf course."
McIlroy goes into the second major of the year with very little tournament golf under his belt having been forced to pull out of the BMW PGA Championship and The Memorial after suffering a recurrence of the back injury that sidelined him for almost seven weeks at the start of the year.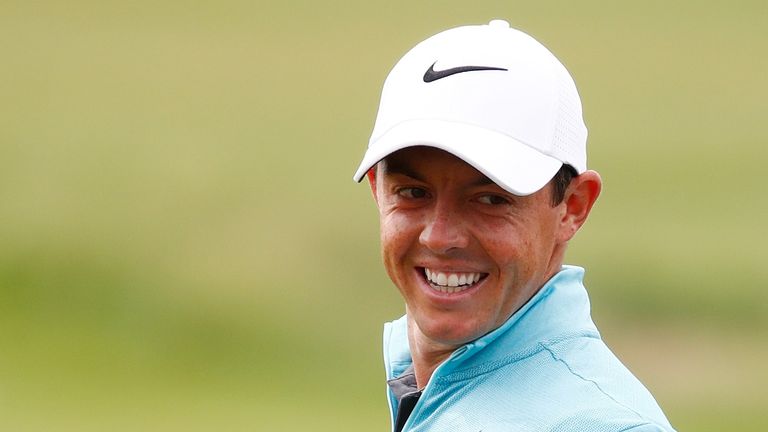 The world No 2 admitted he was struggling during The Players Championship last month, although he was able to finish the tournament and a subsequent MRI scan revealed he had not sustained any serious damage.
"I'm feeling better," he added. "Obviously I've had a few weeks off to try and rest this injury that I've had all year, but I feel good. Over the past 10 days, I've played eight or nine rounds of golf and I feel really good, as long as I manage the load that I put through in terms of practice and hitting a lot of balls.
"But I'm totally fine to play. I don't feel it at all. It's just a matter of managing that sort of practice load, which isn't a bad thing. It means I can go out and play. I've added a few events to my schedule, so looking forward to a busy summer.
"There are no limitations on my swing whatsoever. Preparation-wise, instead of hitting five bags of balls, I'll hit two, just something like that. It's not as if I can't hit balls, it's just a matter of managing how many repetitions I put through it. I mean not really many limitations.
"It's at the point in the year, as well, you don't need to be practising that much, you just want to go out and play. You figure stuff out on the golf course more than on the range sometimes anyway, and it's let me concentrate a bit more on my short game.
"Obviously I haven't had many tournament rounds under my belt. But at the same time, I'm coming in fresh to this part of the season. And as I said, added a couple of events to the schedule and want to play a lot over the summer and try to make up some ground on the rest of the guys."