William Hill Derby Final: Huge prize at stake in Saturday's showpiece at Wimbledon
The best geyhounds in the world will race for a record £200,000 prize in Saturday's Derby Final, live on Sky Sports.
Last Updated: 28/05/14 11:46am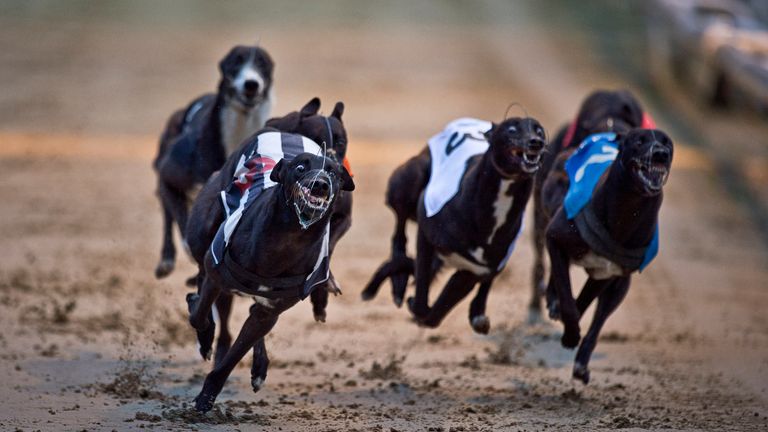 Two Irish dogs head the betting, with Mind The Net and Crokers Champ likely to go off at odds of around evens and 2-1 respectively.
Ireland last won the Derby in 2008 with the Seamus Graham-trained Loyal Honcho, but bookies and punters cannot see beyond the Irish pair this year.
Salad Dodger is currently trading at around 16-1, with Droopys Ward rated the most likely home winner at 13-2, Farloe Trent 8-1 and Kincraig Rory the 25-1 outsider.
Mind The Net's 28.09 in the quarter-final is the third fastest time ever run at Wimbledon.
Kincraig Rory, Farloe Trent and Salad Dodger have yet to win a round but that is no reason why they cannot win on Saturday night - Westmead Lord, Allen Gift and Tartan Khan are Derby winners who saved their best for last.
Len Ponder, owner of Kincraig Rory, is a longtime Arsenal season-ticket holder. He got the commentary for the third round from Wembley.
Droopys Ward's team of owners include Geoff Bowmer, who runs the Thatchers Arms in Brentwood, Essex. The whole pub is on the dog, and they show the Sky greyhound shows on the big screen.
Salad Dodger's trainer is Bruno Berwick, and he's an ex-boxer. He fancies Groves to beat Froch so there could be two knockout blows landed by Bruno on Saturday!
Farloe Trent is trained by Liz McNair. The last woman trainer to win the Derby was Dolores Ruth with Shanless Slippy back in 1996.
Farloe Trent used to be trained by Pat Buckley, who sold the dog to Liz and Rab McNair! Now it's in the final, against Pat's Mind The Net.
Watch all the action from Wimbledon live on Sky Sports 1HD from 7pm on Saturday.