Big Buck's back in training with Paul Nicholls
Big Buck's has returned to training with Paul Nicholls along with Al Ferof and Tidal Bay who were sidelined last season.
Last Updated: 22/08/13 12:23pm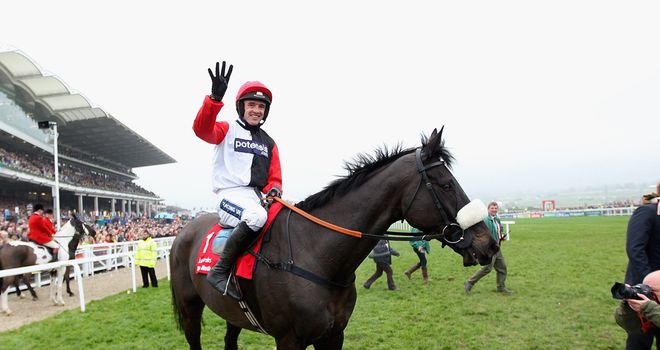 The former champion trainer will tread carefully with four-times World Hurdle winner Big Buck's, who may only have one run before heading to Cheltenham in March.
"It's getting harder to find the stars, the market is incredibly tough and everyone wants to buy decent horses and support jump racing, which is good for the sport," said Nicholls, who lost his title to Nicky Henderson last season.
"The good horses fall in your lap for one reason or another, you don't really come across them and we were incredibly lucky that we had so many nice horses at one time but I think we've got some fantastic horses this year.
"Zarkandar and Silviniaco Conti will head it up and we've got some really nice young horses.
"Big Buck's came back in training on Wednesday, he had his first trot over Ditcheat hill and he'll do lots of road work, I'm in no hurry with him.
"Al Ferof also came back in and he's started trotting. Lisa Hales has done a good job with him over the last month.
"Tidal Bay is back in and he's already started cantering after the little problem we had, which seems to have disappeared.
"It took me a while to work him out but to win a Lexus with him was fantastic and his run in the Hennessy against the Gold Cup winner, giving him weight, was also a good performance.
"We may start him off over hurdles at Wetherby again but with any of the horses who've had injuries, you don't want to make too many plans."