Runner-by-runner guide to Saturday's Crabbie's Grand National
We are close to the off in the Crabbie's Grand National Chase. Andy Charles marks your card and gives you a runner-by-runner guide to the big race at Aintree.
By Andy Charles
Last Updated: 05/04/14 2:49pm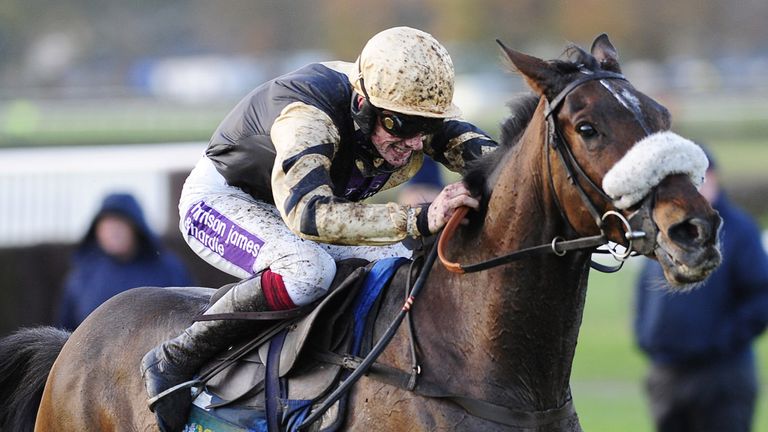 Runner-by-runner guide to Saturday's Crabbie's Grand National Chase at Aintree.
1. TIDAL BAY
Jockey: Sam Twiston-Davies. Trainer: Paul Nicholls
Sergeant Murphy (1923) was the last 13-year-old to win the National, but Tidal Bay might be the classiest runner of that age since. Quirky? Yes. Talented? Definitely. The top-weight has to be in with a chance despite not appearing to enjoy Aintree in 2011. He's a very different horse now. Rating 10/10.
2. LONG RUN
Jockey: Mr Sam Waley-Cohen. Trainer: Nicky Henderson
Winner of the Cheltenham Gold Cup in 2011, Long Run has dropped enough in the weights since to have a decent chance here. Doubts remain over his jumping style, which will be tested to the full even on a less fearsome National course than previous years, and bar a win over Knockara Beau last time his form is regressive. Rating: 6/10.
3. HUNT BALL
Jockey: Andrew Tinkler. Trainer: Nicky Henderson
Back in the United Kingdom after a failed attempt at winning the big National Hunt prizes in the United States (yes there are some!). Ran well in the Ryanair at Cheltenham but looks weighted to the hilt and a doubtful stayer. Rating: 4/10.
4. TRIOLO D'ALENE
Jockey: Barry Geraghty. Trainer: Nicky Henderson
Won the Topham Chase over these fences last season and took the 2013 Hennessy Gold Cup in fine style. Ground will suit but failed to see out trip in the Gold Cup last time and stamina could be an issue as well as reports of breathing problems. Rating: 5/10.
5. ROCKY CREEK
Jockey: Noel Fehily. Trainer: Paul Nicholls
Second to Triolo D'Alene in the Hennessy and a decent second in the Argento since. Lacks experience in general with only 10 runs under rules and you just wonder if that could be his undoing. Trainer fancies his chances though and who are we to argue. Rating: 7/10.
6. QUITO DE LA ROQUE
Jockey: Brian O'Connell. Trainer: Colm Murphy
Was running decent races against the best horses in Ireland until about this time last year but has regressed badly this season and looks a light of former days. Rating: 1/10.
7. COLBERT STATION
Jockey: Mark Walsh. Trainer: Ted Walsh
Rejected by AP McCoy and you can see why on this season's form. Unseated the champion when fancied for this race 12 months ago. Has been on the deck twice since and his form does not inspire huge confidence. Rating: 3/10.
8. WALKON
Jockey: Wayne Hutchinson. Trainer: Alan King
Second to Triolo D'Alene in the Topham last year and might well have won that race had it been over a furlong or two further. Ground will suit much better than last time out and might not be the most forlorn outsider for value hunters and Liverpool FC fans alike. Stamina a question mark. Rating: 7/10.
9. BALTHAZAR KING
Jockey: Richard Johnson. Trainer: Philip Hobbs
More of a cross-country specialist these days, winning at the Cheltenham Festival last time out. Raced too freely in last year's National and stamina gave out much earlier than you would have expected as he gets four miles in his specialist area. Remains an interesting contender. Rating: 7/10
10. WAYWARD PRINCE
Jockey: Jack Doyle. Trainer: Hilary Parrott
Very inconsistent performer these days. His form doesn't look good enough to win this but you wouldn't be surprised if he put it all in and produced a shock. Not for me though. Rating: 2/10.
11. MR MOONSHINE
Jockey: Ryan Mania. Trainer: Sue Smith
Auroras Encore won for the same connections last year but this one failed to make it to the end of that race. Has run well over these fences since, over a shorter trip, and stamina might be his undoing. Rating: 3/10
12. TEAFORTHREE
Jockey: Nick Scholfield. Trainer: Rebecca Curtis
Likely favourite after being laid out for the race this season. Didn't seem to quite get the trip when fading into third last year but might have improved a few pounds since then, based on a promising warm-up spin in the Cheltenham Gold Cup. Looks certain to be involved at the business end, but not exactly value now at single-figure odds. Rating: 8/10.
13. ACROSS THE BAY
Jockey: Henry Brooke. Trainer: Donald McCain
Had another pop around these fences in the Becher Chase before Christmas but, just like last year's National, he didn't convince and has plenty to find, even on the best of his in-and-out form. Rating: 2/10.
14. DOUBLE SEVEN
Jockey: AP McCoy. Trainer: Martin Brassil
Comes into the race fresh and is the choice of the champion jockey, which will undoubtedly make him a popular pick on Saturday. Left alone for most of the winter on horrible ground in Ireland, his warm-up run showed promise and the better going will definitely suit. Big player but wouldn't want too much rain. Rating: 8/10.
15. BATTLE GROUP
Jockey: Brendan Powell. Trainer: Johnny Farrelly
Won twice in three days at Aintree last spring, although both wins came over the Mildmay fences. His form since November, though, reads PRP which is hardly confidence-boosting. Wouldn't be the biggest shock in the world, as he clearly has talent, but his head doesn't look to be on the game right now. Rating: 2/10.
16. BUCKERS BRIDGE
Jockey: Andrew Lynch. Trainer: Henry de Bromhead
Probably a career-best over fences last time out but lacks the experience and class to win this. Would have to be a doubtful stayer as well. Doesn't get anywhere close to my shortlist. Rating: 2/10.
17. LION NA BEARNAI
Jockey: Davy Russell. Trainer: Thomas Gibney
Won the Irish National in 2012 but hasn't reached those heights in limited runs over the two years since that highlight. Did win at Fairyhouse in February but since then well behind Buckers Bridge and, at 12 years old, his time may have been and gone. Rating: 2/10.
18. PRINCE DE BEAUCHENE
Jockey: Paul Townend. Trainer: Willie Mullins
Has been fancied for this race a couple of times but failed to make it into the final field after suffering pre-race setbacks. You have to fear the connections but recent form is nothing like good enough to win such a competitive heat. Rating: 3/10
19. MONBEG DUDE
Jockey: Paul Carberry. Trainer: Michael Scudamore
Big favourite of mine but I am deserting him for one reason only – his jumping. Although the fences are undoubtedly easier than they were, his habit of taking one by the roots could well prove costly. Paul Carberry might want a bit of extra glue on his saddle just in case. Rating: 5/10
20. BIG SHU
Jockey: Peter Buchanan. Trainer: Peter Maher
Another cross-country star, winner at Cheltenham last year and third last month after travelling notably well for 3½ miles. Hard to say how he will get on but a big run from Big Shu would not be a big shock. Rating: 7/10
21. BURTON PORT
Jockey: Brian Harding. Trainer: Jonjo O'Neill
Into his veteran years now, Burton Port has plunged down the weights and looks to be on a very tempting mark. Ran his best race for ages last time out at Newbury and if he enjoys his first go over these fences he will most likely be in the shake-up. Rating: 8/10.
22. OUR FATHER
Jockey: Denis O'Regan. Trainer: David Pipe
Will be popular (along with Walkon and others) among the housewives who back a grey, or almost white in his case. But that apart, he lacks experience and has not shown much zest for racing recently. Rating: 1/10.
23. MOUNTAINOUS
Jockey: Jamie Moore. Trainer: Richard Lee
Won the Welsh National at Chepstow just after Christmas but that looks like being his big day out for this season. Would want plenty of rain to slow his rivals down and doesn't look like the heavens are going to open soon enough for this mud-lover. Rating: 2/10
24. THE RAINBOW HUNTER
Jockey: Aidan Coleman. Trainer: Kim Bailey
Bounced back to his best when winning the Sky Bet Chase last time out but the standard of that form would be a little short of what is needed to win this and he unseated early on in last year's contest. Rating: 5/10.
25. VINTAGE STAR
Jockey: Brian Hughes. Trainer: Sue Smith
Ran well enough in the Welsh National but no reason to think he can turn that form around over an even longer trip, something that won't necessarily play into his hands. Rating: 1/10.
26. CHANCE DU ROY
Jockey: Tom O'Brien. Trainer: Philip Hobbs
Loves it around here, having won the Becher Chase late last year. He is also a previous runner-up in the Topham. The trip could be something of a worry but the better ground will help and is an outsider with a definite 'chance'. Rating: 7/10.
27. HAWKES POINT
Jockey: Ryan Mahon. Trainer: Paul Nicholls
Another one from that Welsh National and I think he might just come out best of those who ran in that race. But, having said that, it probably still won't be enough to run into the frame. Rating: 5/10.
28. KRUZHLININ
Jockey: Wilson Renwick. Trainer: Donald McCain
Well beaten by The Rainbow Hunter recently and, although the better ground here might help, it won't be enough to give him the faintest of chances. Rating: 1/10.
29. PINEAU DE RE
Jockey: Leighton Aspell. Trainer: Dr Richard Newland
Warming up for a National in the Pertemps Hurdle at Cheltenham might seem strange but this is a horse that has mixed hurdling and chasing all year and is a definite contender. Bound to travel well for a long way, but will the long run to the line suit him as he probably needs to hit the front as near the line as possible. Fall in the Becher a small concern but we'll forgive him that. Rating: 9/10.
30. GOLAN WAY
Jockey: Michael Byrne. Trainer: Tim Vaughan
Front-runner with bits and pieces of very good form a few years ago, but has been running in hunter chases this year and although very impressive last time, he's surely outclassed here. Rating: 1/10
31. TWIRLING MAGNET
Jockey: Richie McLernon. Trainer: Jonjo O'Neill
Will love the ground, if the rain stays away, but that's about the only positive. Stamina doubts, form a big question mark. Unlikely player. Rating: 1/10.
32. VESPER BELL
Jockey: Mikey Fogarty Trainer: Willie Mullins
Rarely ignore a runner from this top Irish yard…but I'm ignoring this one. Doesn't jump well enough and fell at the first on his only trip to Aintree. Rating: 1/10.
33. THE PACKAGE
Jockey: Tom Scudamore. Trainer: David Pipe
Represents a shrewd bunch of connections and has been well backed in the last couple of weeks, but I just don't see him staying the trip and he doesn't seem to be as good a horse as when unseating rider in the 2010 edition of this race. Rating: 3/10.
34. RAZ DE MAREE
Jockey: Davy Condon. Trainer: Dessie Hughes
Best run came over the longest trip he has tried, in the 2012 Cork Grand National, but his form in the 18 months since then is less than inspiring. Readily passed over. Rating: 2/10.
35. ROSE OF THE MOON
Jockey: Jake Greenall. Trainer: David O'Meara
Nice winner at Wetherby last time, but that was a few grades below the form needed to win a National and he is well held on Becher Chase form by Chance Du Roy. Rating: 3/10
36. SHAKALAKABOOMBOOM
Jockey: David Bass. Trainer: Nicky Henderson
Favourite when ninth in the 2012 National behind Neptune Collonges and has only run three times since with no success. Unsighted at Cheltenham last time and same might happen here. Rating: 2/10.
37. ALVARADO
Jockey: Paul Moloney. Trainer: Fergal O'Brien
Very quirky type, much like your writer, but once in a while he finds some form as at Cheltenham in November. On a going day he might be a decent outsider but predicting his going days is about as easy as…predicting the Grand National winner. Rating: 5/10.
38. LAST TIME D'ALBAIN
Jockey: Robbie Colgan. Trainer: Liam Cusack
Ran an absolute cracker behind Triolo D'Alene in the Topham 12 months ago when staying on into third. Stamina for this marathon is a question but has been set out for this race since Aintree last year and would not be the worst outsider you could back. Rating: 7/10.
39. ONE IN A MILAN
Jockey: Adam Wedge. Trainer: Evan Williams
Career-best fourth in the Welsh National but that wouldn't be enough to see him in the mix for the places here and his recent warm-up runs over hurdles have done nothing to produce any confidence. Rating: 1/10
40. SWING BILL
Jockey: Conor O'Farrell. Trainer: David Pipe
The 'White Flash' is back for a seventh go over the National fences. He hasn't won yet here for connections, who own big race sponsors Crabbie's, but ran well in sixth last year and should get around again. Rating: 3/10.
RESERVES: Goonyella, Soll, Night In Milan (would be in with a chance if getting a run) and Minella For Value.
VERDICT:
As befits the Grand National, the 2014 edition is wide-open with at least a dozen horses in consideration for my 'short' list. Knocking them down to five was tough but I'm sticking with top-weight Tidal Bay to enter the record books and lump 11-10 around Aintree for 4½ miles, a result that would surely bring the house down.
Strong traveller Pineau De Re is my pick for the best idea of an outside bet, and the really big prices about him have long since gone, with the frame being filled out, in some order or another, by best Irish raider Double Seven, the gallant Teaforthree and handily-weighted Burton Port. Of the others, if he stays, Walkon could be an interesting one to back for Liverpool fans thinking about impending Premier League glory.
1 Tidal Bay
2 Pineau De Re
3 Double Seven
4 Teaforthree
5 Burton Port (most bookies will pay five places on the National)
6 Walkon (some will even pay six)