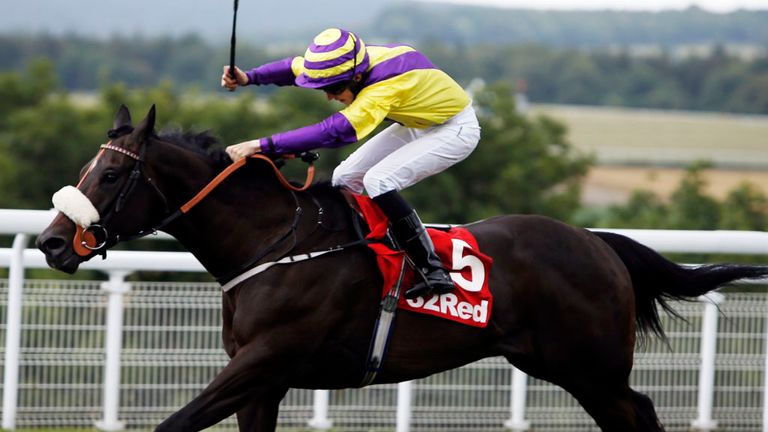 Barnet Fair struck for talented 5lb claimer Cam Hardie in the 32RedSport.com Handicap at Goodwood.
This consolation race for the 32Red Cup later on the card was still a hot contest, despite 10 late withdrawals, mainly due to the quick ground.
The field split into two groups, with the fancied Stepping Out leading on the near side and the 11-2 favourite Tatlisu not far away.
But it was the Dandy Nicholls-trained Barnet Fair (7-1), second at Ascot last Sunday, who came through on the far side group to narrowly land the spoils from Mission Approved and Tatlisu in a finish of short heads.
Slip Sliding Away was fourth and Humidor fifth.
Hardie, who was claiming his first Glorious Goodwood winner, said: "He had a good second at Ascot last week and he's franked the form.
"He was a little keen with me early on, so I just wanted to get some cover and get him switched off.
"He idled when he got to the front, but he travelled all the way through to the line."
Nicholls said: "It's a good day for the owners. This horse has not been with us long. It's taken us time to get to know him. He's improved with every run he's had.
"We may have got it a bit wrong the last time when we got pushed to the stands' side, but it's all good.
"He's a nice horse and everyone else who's had him have done well with him.
"I think he's put a bit more condition on since he's been with us. He's never given us any trouble or bother. This horse is a gentleman."
Barnet Fair is now likely to cross the Irish Sea in pursuit of further riches. Nicholls said: "Everyone knows I love having winners here but there's no point coming if you haven't got the right horses.
"I'm a bit sick he didn't get in the Stewards' Cup but hopefully there's next year. I hope you'll hear more about this horse.
"The handicapper can't put him up too much, and there are a couple of races in Ireland for him now."
Double Bluff defied top weight to earn another Glorious Goodwood winner for trainer Mark Johnston and jockey Joe Fanning in the Jaguar Handicap.
The 7-1 scorer, runner-up at Ascot just six days ago, helped make the running with Smiling Stranger until being asked to go and win his race three furlongs out.
This early move paid dividends as the 3-1 favourite Kings Fete could not make up the leeway, having been in the rear early on.
Kings Fete was still three lengths down at the line, with Second Step another length and a quarter back.
Fanning said: "He's a tough little horse.
"I thought this may have come a bit quick but he's tough and genuine.
"Now he's found his form again hopefully he can keep on getting better."
Johnston said: "It's clearly the best race he's run. We've had a bit of a debate as to what trip to go with him.
"Ron (Huggins, owner) and I agreed going back to a mile and a quarter didn't work so we went back up to a mile and a half. If anything, we'll be going up in trip. He was going well at the finish.
"We may have to go to Pattern company depending what the handicapper does. He ran in a Group race last year."
Charlie Hills likes Dutch Connection (9-2), a clear-cut winner of the NatWest Ahead For Business EBF Stallions Maiden Stakes.
"He's a nice horse for the future," said the trainer. "We might look at the Solario at Sandown."