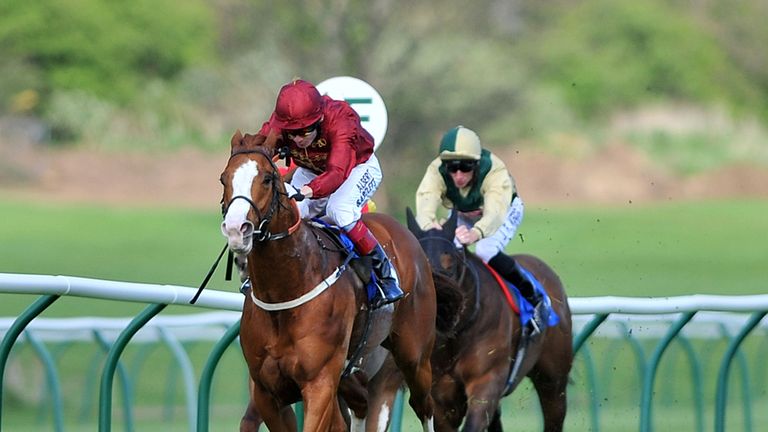 Jamie Spencer has revealed he is to quit riding at the end of the season in order to take up a management role at Qatar Racing.
The 34-year-old, who has twice been crowned champion jockey in Britain as well as once in Ireland, is currently retained rider for the powerful operation but will work closely alongside Sheikh Fahad Al Thani and his bloodstock advisor David Redvers providing feedback and advice on their horses from 2015.
Spencer said: "This is a fantastic opportunity and if I have learned anything in my riding career it is that you should take such opportunities when they come along.
"As much as I love race riding, it is not something I want to do for the rest of my life and while I am not necessarily ready to retire now, I feel at a stage when I am ready for a change.
"I really enjoy being part of the Qatar Racing team, working with Sheikh Fahad, David and everyone in the team, and so the opportunity to continue that and at the same time start the next chapter in my career appealed to me."
Spencer burst onto the scene when winning the Irish 1,000 Guineas aboard Tarascon back in 1998 at the age of just 17, and has enjoyed plenty of big-race winners during a career that also saw him spend the 2004 season as stable rider for Aidan O'Brien.
Festival of Food and Wine Raceday, Ascot
EXCLUSIVE! £5 discount on all tickets plus a free £5 drinks voucher with every adult ticket – only when you buy with Sky Tickets. Plus no booking or delivery fees.
He famously shared the British crown with Seb Sanders in 2007 in a battle that went right to the last day and bagged British Classic success with the likes of 2003 St Leger hero Brian Boru and 2009 Oaks winner Sariska.
Spencer said: "This has been a big decision and not one I have taken lightly. My priority is my family, and thinking of them and their future has played a key part in my decision. I feel I still have a lot to give to racing, and not just as a jockey.
"I would like to thank all the owners and trainers who have supported me throughout my career. I will always be grateful to them for the success I have had and the friendships built along the way."
Spencer, godson of Coolmore supremo John Magnier, has been retained rider for Qatar Racing since 2013, with Just The Judge providing a memorable first Classic success for the team when landing last year's Irish 1,000 Guineas.
Sheikh Fahad said: "I am delighted that Jamie will remain part of the team in his new role. I very much enjoy working with him and I am sure he will continue to be a great asset to Qatar Racing."
Redvers said: "Ever since we signed up Jamie he has impressed us with his commitment and contribution. He has been an invaluable team player and this new role will enable him to build on that. I am delighted that we will continue to benefit from his insight, enthusiasm and invaluable experience.
"Jamie will continue to ride for Qatar Racing for the rest of the year. With regard to riding arrangements for 2015, we hope to be in a position to clarify the plans shortly."
Spencer had his first success on Huncheon Chance at Downpatrick in 1996, and just two years later was a Classic-winning rider as Tommy Stack's Tarascon beat the O'Brien-trained Kitza by a neck.
Fozzy Stack, assistant to his father, said of the Country Tipperary-born rider: "He's been a great jockey. The family have known him since he was four years old and he's been a great friend to me over the years.
"We've had a couple of great days together on a professional front. Obviously Tarascon winning was a good day. Jamie was 17 at the time and it was a big call to put him up, but Jamie is a good rider and always was."
Sariska was trained by Michael Bell, who said: "I was admittedly shocked when he first told me, but he's taking on a new, exciting challenge and I can see his reasoning.
"He's been riding at the top level since he was 17 and while I would have loved to continue to use his services, I can understand why he's come to this decision.
"We had a lot of fun and success over the years. The two Oaks wins (English and Irish) with Sariska were obviously fantastic and the Red Evie days were great as well. The ride he gave Red Evie to win the Lockinge was phenomenal.
"In my opinion he's an outstanding jockey. When he's riding at his best, he's as good as anyone."
Former top-class jockey Johnny Murtagh last year announced is retirement to join the training ranks and saw Spencer ride his Purr Along to a Group Three triumph at the Curragh in May.
He said: "I'm here at York and when I came through the gates and the news came up on Twitter, I couldn't believe it.
"It's a bit of a shock, to be honest, but who am I to say whether it's the right time to stop or not? Jamie obviously feels now is the right time.
"He's a great jockey and the ride he gave Purr Along at the Curragh earlier in the year was a typical Jamie Spencer ride. He sat back and came with one run and he couldn't have ridden her any better."
Spencer enjoyed Group One success for Marco Botti when partnering Excelebration to glory in the 2011 Prix du Moulin at Longchamp.
Botti said: "It is a big surprise as he is a very talented jockey and still young and I thought he still had a few more years riding ahead of him, but it's obviously his decision.
"He is a very experienced jockey and has ridden all over the world.
"Because he has been retained by Qatar Racing he isn't available all the time, but we have used him on a few occasions and we had a great day when Excelebration won the Prix du Moulin. Jamie also rode him to finish second to Frankel in the QEII."
Spencer has enjoyed a fruitful relationship with North Yorkshire trainer Kevin Ryan, who said: "I was very shocked when I heard the news, he's ridden for me since I started.
"He's a brilliant rider, a great friend and a fantastic person.
"With Jamie the owners always came first, his debriefing afterwards was the best in the business.
"He's won some big races for me - the Wokingham, the Ayr Gold Cup and plenty of Group races - and as an all-rounder you couldn't wish for a better jockey.
"I always felt confident when Jamie was riding."
Jamie Osborne enjoyed his greatest training moment to date when Spencer guided Toast Of New York to a dream win in the UAE Derby on World Cup night in March.
The Lambourn handler said: "I'm very surprised. I spoke to him yesterday and he didn't mention it.
"He's obviously got his reasons. Having done it myself, I just hope there doesn't come a day when he regrets it and thinks he stopped too soon.
"I'm sure he's thought long and hard about it and we have to remember he rode a Classic winner when he was 17, so he's been around a long time. It's going to be very different without him.
"He clearly gets on very well with Sheikh Fahad and they've become good friends, so I'm sure that is a part of his decision as well. He'll be a great asset to their team.
"He's taken a lot of stick and criticism over the years, but he's a thoroughly nice guy and he's just got on with it.
We had a day we'll never forget in Dubai."
O'Brien said: "It's a pity. Jamie is a great rider, always was and always has been.
"He knows himself if he has a good job. It's a tough life a jockey's life. There's ups and downs, day in and day out. There's disappointments and everyone knows how tough it is. If he has a good job I can see where he's coming from.
"He always was a great rider and a great fellow and was always very special to deal with in every way. He came to us when he was very young and was just about to get married, so he probably had a lot going on.
"He's a great horseman and we couldn't wish him more well. We take our hat off to him and wish him all the very best."
Emerging young talent Andrea Atzeni, currently number one for rider for Roger Varian, is the odds-on favourite to be appointed as the new retained jockey for Qatar Racing.