Tony McCoy set another new career mark as he recorded his fastest ever century
Last Updated: 22/08/14 10:10am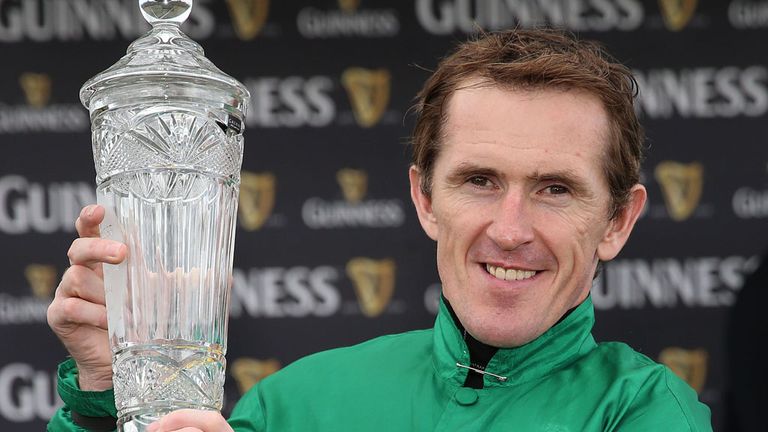 Tony McCoy set another new career mark as he recorded his fastest-ever century of winners at Newton Abbot.
The perennial champion, who claimed his quickest half-century at Worcester in June, struck first on 11/8 favourite Crannaghmore Boy for Jim Best in the St Loye's Transitions Handicap Chase.
McCoy had to settle for second on Chalk It Down in the race that followed and third later on the fancied Accessallareas, but in the final heat he hit the magical 100 as Arabic History made a winning debut for John Ferguson in the IRL Independent Racecourses Ltd Intermediate Open National Hunt Flat Race.
Last month saw McCoy delight in achieving a personal landmark of overtaking his old boss Martin Pipe's career total of 4,191 victories.
His seasonal best tally to date is 289 winners, set in 2001/2.
After returning on the successful 2/1 chance, McCoy told At The Races: "I thought when I rode my fastest 100 in the season I broke Sir Gordon Richards' record (2001/2) I did well and that it might stand my test of time, that I wouldn't be sure anyone else could do that, so in that kind of way I'm disappointed as I thought it would stand my length of time riding anyway.
Festival of Food and Wine Raceday, Ascot
EXCLUSIVE! £5 discount on all tickets plus a free £5 drinks voucher with every adult ticket – only when you buy with Sky Tickets. Plus no booking or delivery fees.
"But it's good, you have to challenge yourself.
"I've had great support from Jonjo [O'Neill] as always, and with Jason [Maguire] unfortunately being injured I've ridden a lot of winners for Donald McCain. I've ridden 10 [winners] from 15 [rides] for Kim Bailey that would have been Jason's as well, a lot of winners for John Ferguson too, who has been very supportive, and plenty of other trainers. Dave Roberts (his agent) has done his usual good job.
"I like to think I learn something every day and that I improve every day - but from 2001 to now I hadn't improved because I hadn't ridden that amount of winners as quick.
"I'm very lucky that I ride for a great man in JP [McManus], he lets me be confident in doing what I do and it gives you confidence to ride as you think is best. I've always been lucky to ride for great people."
Soon afterwards, McCoy completed his Ice Bucket Challenge for charity, having been nominated by Ruby Walsh.
For his part, the Ulsterman was quick to nominate presenter Claire Balding and fellow riders Richard Hughes and Frankie Dettori. 
"It's quite refreshing after you've been sweating all day," he said. "It's the first thing I've ever done that I've enjoyed!"