Damien Oliver stood down over betting charge in Australia
Australian jockey Damien Oliver has been suspended from riding after being charged with betting on a rival horse.
Last Updated: 13/11/12 11:17am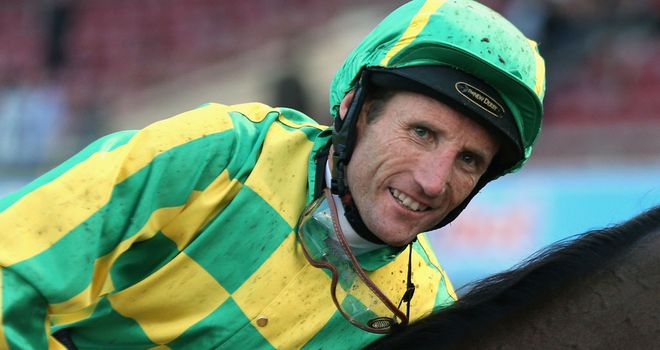 The 40-year-old jockey, who was in action aboard Americain in last week's Melbourne Cup, has admitted placing the wager on the winner of a race at Moonee Valley in October 2010, a contest in which he finished down the field in sixth.
Allegations that an investigation was under way into Oliver surfaced in the build-up to the Melbourne Cup meeting and emerged on the back of several other cases involving Australian jockeys.
Racing Victoria chief executive Rob Hines denied that a deal had been done with Oliver allowing him to ride at the Spring Carnival before the charges were brought.
"We have acted as quickly as we could, following sufficient evidence to lay the charges," said Hines.
Australian media report that he faces a ban from riding of between eight months and a year if found guilty to the two charges relating to his admissions.
The two rules he is charged with breaching are: AR 83 (c) "Every jockey or apprentice may be penalised if he bets, or facilitates the making of, or has any interest in a bet on any race or contingency relating to thoroughbred racing, or if he be present in the betting ring during any race meeting."
And AR 160B(3): "No person shall, without the permission of the stewards: within the area of the jockeys room bring into, have in his possession, or use any portable telephone, radio transmitter, radio transceiver or any other appliance, apparatus, instrument or equipment capable of receiving or transmitting information."
Oliver will appear before a stewards' panel on Tuesday November 20.