Torrential rain means Hereford's Thursday meeting latest to be abandoned
Thursday's meeting at Hereford has been abandoned due to a waterlogged track.
Last Updated: 21/11/12 2:13pm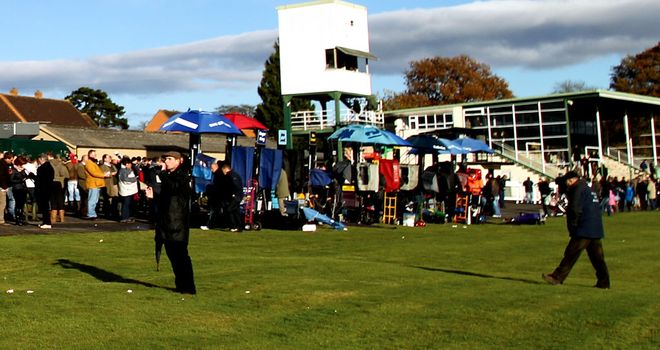 Clerk of the course Keith Ottesen announced a lunchtime inspection earlier on Wednesday morning following persistent rain, and to make matters worse a culvert (a type of drain) that runs through the centre of the course has burst.
Ottesen has had little option but to call off proceedings and he said: "It's been getting worse and we're up to 27 millimetres of rain now. We weren't expecting anywhere near that amount.
"Up to 7am we'd had 14mm but as it carried on raining all of the water from the surrounding areas and the water courses are culverted and can't cope with it all.
"We are flooded in parts because those water courses that take the water around the racecourse and underneath it have been breached.
"The ground everywhere is saturated and cannot take this amount of rain in such a short space of time.
"Not only that, the weather forecast for tomorrow has worsened. We are looking at another 25mm of rain tomorrow.
"Not only have we got some mopping up to do it is due to happen again so we had no alternative other than to abandon, which is very disappointing for everybody here."