Six left in Fighting Fifth field
Rock On Ruby, Cinders and Ashes and Darlan could all line up in Saturday's Fighting Fifth Hurdle if the weather relents.
Last Updated: 26/11/12 2:03pm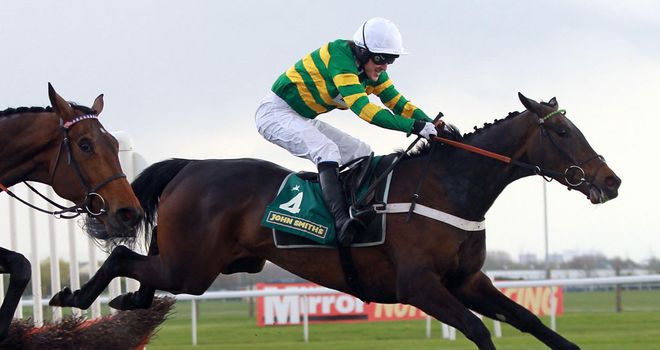 Trainer Donald McCain reports Cinders And Ashes to be an intended starter, but Nicky Henderson has expressed reservations over running Darlan, having pulled the horse out due to similarly testing conditions prevailing at Cheltenham earlier this month.
Supplemented to the line-up on Monday was Bothy, with owner Dan Gilbert tweeting: "We need to be 4th or better to make the stake back, but we'd fancy beating a few of them on heavy even if they all run."
Also left in the contest were last season's Champion Hurdle hero Rock On Ruby, Triumph Hurdle winner Countrywide Flame and Irish hope Trifolium.
McCain said he had been pleased with a workout from Cinders And Ashes, the 2/1 favourite with the sponsors, at the weekend. "He went to Bangor last week for a gallop under Jason Maguire and went all right, but he worked really well on Saturday morning and I'm looking forward to the race," reported the trainer.
However Henderson admitted that he might again be forced to re-route Darlan and was left wondering how best to juggle his options alongside other top-notch hurdlers such as Grandouet and Binocular.
"Even if Newcastle is on, you'd have to wonder whether we'd want to be going there anyway but even if they move the race to Newbury, it might well be heavy there too," he said.
"If we wait for December, we'll start to get a backlog. Do we run three in the same race at Cheltenham [International Hurdle]? It's starting to get a bit tricky."
Further rain on Monday has seen going conditions deteriorate further at the track, but clerk of the course James Armstrong's greatest fears are now stemming from the prospect of colder weather at the end of the week.
"We were forecast up to an inch of rain up to 6am on Tuesday and it's certainly set in now and standing water is starting to appear in one or two places," he said.
"From Tuesday it is due to start clearing up as the rain moves away to the higher ground, but the worry then could be cooler temperatures and wintry showers, possibly with some sleet, coming in off the sea.
"Temperatures are forecast to fall, but I am reluctant to put covers down as we have found before that they can be very difficult to remove without machinery and the last thing you want to do on a saturated track is have machinery running over it. The latest forecasts I have seen suggest we should be all right, but it's obviously a concern."