Newcastle are hopeful of staging the Fighting Fifth Hurdle on Saturday
Newcastle officials remain optimistic for Saturday despite being hit by three inches of rain over the last few days.
Last Updated: 27/11/12 10:09am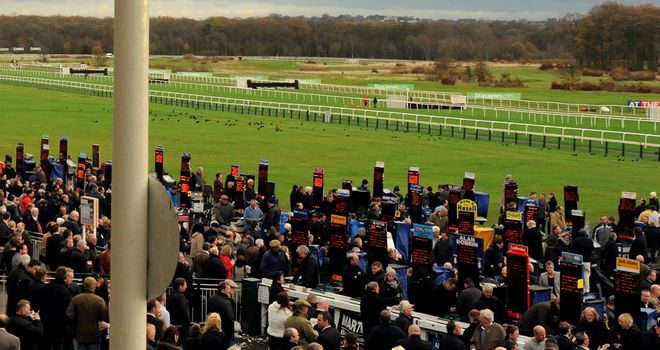 Clerk of the course James Armstrong reports most of the track to be raceable, but there is waterlogging in places.
With drier weather expected later in the week, however, Armstrong is hoping conditions will improve enough to allow the card, featuring the StanJames.com Fighting Fifth Hurdle, to go ahead.
"We had a total of 49 millimetres of rain on Monday, which has taken us up to 75mm since Saturday," he said.
"I've walked the course this morning and it has taken it remarkably well, but we are still heavy, waterlogged in places.
"I would say 80% of the track is raceable. There is an area between the two-mile-six and the two-mile-four start that has standing water.
"We are looking at omitting one fence and maybe moving one hurdle and omitting one.
"Given a dry 24 hours, hopefully tomorrow we will be in a much better position.
"The forecast is for us to get the odd shower today, and from Thursday things are looking drier.
"We do need things to improve a bit but given the rain and the state we were in yesterday afternoon I am pleased with how our drains have coped with the majority of the water."