Jockeys Association insist there's no fundamental drug problem with riders
The Professional Jockeys Association insist that there is no 'fundamental drug problem with jockeys'.
Last Updated: 05/12/12 12:32pm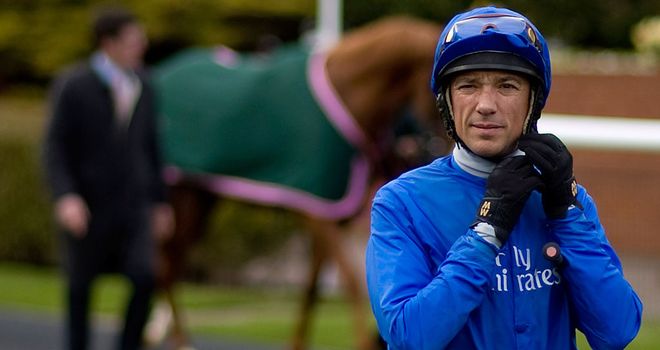 The former champion jockey was handed the ban on Wednesday morning having tested positive for a prohibited substance in France.
However, PJA chief executive Paul Struthers emphasised that the number of positive tests for drugs or alcohol among jockeys was very low and stressed that there was "no fundamental drugs problem".
"As in any walk of life jockeys will make mistakes," said Struthers. "Frankie Dettori has made such a mistake and accepted the consequences of it, and if he needs any support the PJA and Injured Jockeys Fund between them can provide that.
"Jockeys in Britain are subjected to regular testing and, from 2,607 in-competition urine tests and 3,697 breath tests since 2005, there is no evidence to suggest that there is a fundamental drug problem with jockeys. 0.3% of urine tests were positive for drugs and 0.2% of both urine and breath tests were positive for alcohol.
"The wider issue of jockeys' mental wellbeing is something the PJA cares passionately about.
"As well as all the normal pressures that other sportsmen and women have to contend with, unlike many other sports jockeys have the added pressures of massively reduced calorific intake and are constantly at very real risk of serious injury.
"Jockeys in Great Britain have an excellent support structure in place in many respects. This is true when it comes to mental wellbeing, but whilst the support is there, racing perhaps lags behind other sports particularly when it comes to raising awareness of the issues and the support that is available, and it is overdue that more was done."
"The PJA has been in dialogue about this with the Injured Jockeys Fund, the British Horseracing Authority and Betfair, who have sponsored the PJA's Medical Adviser for the last four years and will do again next year as well as sponsoring the Physio and Fitness wing at IJF's Oaksey House in Lambourn.
"As a result, we will be meeting early next year to discuss the issue of jockeys' mental wellbeing with a view to doing more to raise awareness of the issues and the support that is available."