Kauto Star may head to the dressage ring after retirement from racing
Clive Smith has revealed that Kauto Star may embark upon a career in the dressage ring in the new year.
Last Updated: 10/12/12 5:32pm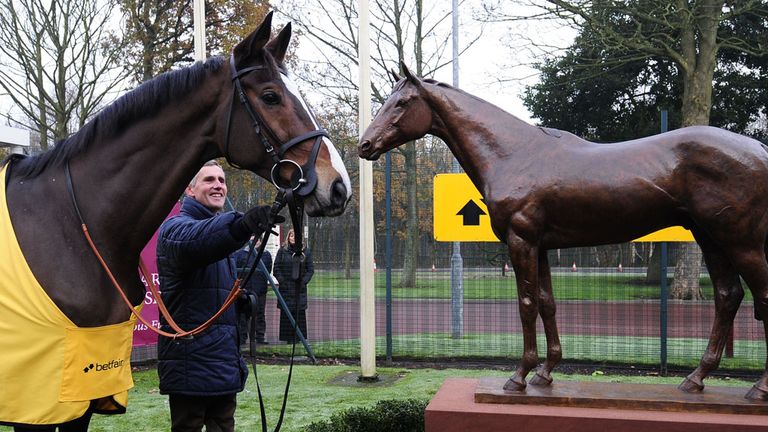 The five-times winner of the William Hill King George VI Chase will lead the runners to post before the big race, completing a busy spell of engagements which has seen him recently appear at major racedays at Haydock and Sandown.
Since announcing Kauto Star's retirement in October, owner Smith has been contemplating what the future might hold for his horse. But after consultation with Eventing expert Yogi Breisner, he has decided to send the horse to leading event rider Laura Collett for a month's crash course in the new discipline.
"He'll go down there after Boxing Day and we'll see how it goes. I didn't want him to be stuck in a box or turned out in a field when he is still so full of life and Yogi was of the opinion that he had the right attributes," said Smith.
"Other retired racehorses like (1991 Gold Cup winner) Garrison Savannah and Neptune Collonges have gone on to have successful careers in the dressage ring and I'd love him to be able to make the transition."
Smith said the attention he had received on course since Kauto Star's retirement from racing was "almost embarrassing".
"It's been amazing how the public have been so incredibly supportive and kind - at Sandown on Saturday and at Haydock for the unveiling of his statute," he said.
"They come up and I say 'I love you' and things like that. Some of those ladies are very keen on Kauto Star! I hope he'll be able to keep making these appearances for as long as people want to see him."
Meanwhile, Kauto Star remains for the time being in the care of Paul Nicholls, the champion trainer saying that his biggest task was keeping a lid on the 12-year-old's excitement at returning to the racecourse.
"He was kicking out at Sandown on Saturday because he's just so full of himself - he nearly took two people's head off as he was going out," said the trainer.
"He did something he hasn't done for eight years the other day and dropped Clifford (Baker, Nicholls' head groom) and trotted back home down the road. I think Clifford was a bit embarrassed."