Kempton should have no problems racing on Boxing Day
Barney Clifford says there are no problems ahead of their King George VI Chase fixture on Boxing Day.
Last Updated: 25/12/12 12:26pm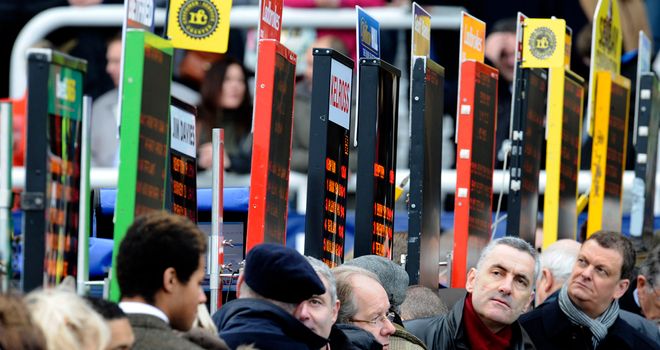 More rain fell at the Sunbury venue on Christmas Morning, but Clifford has not called an inspection and was in bullish mood when he spoke to Sky Sports News
"We're perfectly raceable as we speak. We've had 8mm of rain this morning thanks to some very sharp showers," Clifford said.
"The forecast for the remainder of the day is for a few more showers before lunchtime.
"The ground is officially heavy, forecast for overnight is for the odd shower and then on Boxing Day bright and sunny until mid-afternoon so we don't anticipate any problems.
"I think it's the wettest we've ever known Kempton Park. I think the ground is so wet it won't actually impede the horses too much, they'll gallop away through it.
"I think wet is a lot better than cold, and I think two years ago when we had to abandon because of arctic conditions was probably heartbreaking for the team here.
"It's a very competitive King George, probably the most in my time here (1999). We've seen some fantastic horses win; Kicking King, Best Mate and obviously Kauto Star. Long Run is a worthy favourite on Wednesday, (but there is) Riverside Theatre, Cue Card and also Kauto Stone so it's a fantastic renewal.
"My day will be quite typical. The work's done, organisation starts on New Year's Day so it's a culmination of a lot of hard work by the team.
"This is the iconic fixture for Kempton Park and the Jockey Club. Our whole year revolves around the William Hill Festival. We'll have 20,000 here on Boxing Day and 10,000 on the 27th, so it's a fundamentally important fixture for racing."