Doncaster officials invite racegoers to rename 'Frankel' race
Doncaster is inviting racegoers to choose a name for a new Listed race for two-year-olds at the St Leger Festival.
Last Updated: 23/01/13 8:40pm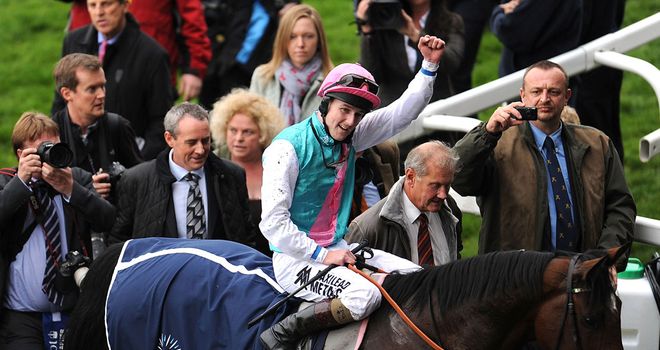 The best horse in the world won the corresponding race over seven furlongs on the Friday of Doncaster's biggest meeting on his second ever start in 2010, when it was run as a conditions event.
Doncaster felt it would put it to the course's legion of followers on Twitter to come with the best possible title - but racing fans have only got until 12 noon on Friday to submit suggestions.
The winner will be decided by senior management at the South Yorkshire track and the suggestion will then go forward to the British Horseracing Authority for approval.
The prize is two County Stand badges for that day's racing on Friday, September 13.
"We are doing a competition to see what people come up with," said Doncaster's managing director Mark Spincer.
"Frankel won this race which we've had upgraded from a conditions race to a Listed race and we need to give it a permanent name.
"Some people have come back and speculated maybe it should be called Frankel but before we did that we would have to check with his connections to make sure they have no objections and we've put a competition out on Twitter to see what names people come up with.
"There may be a fantastic name that none of us have thought of.
"Whoever wins will get a pair of badges to come and watch the race they named.
"We've got a lot of interaction with our followers on Twitter at the minute because we should be racing this weekend, but with Friday's meeting gone and our biggest meeting of the winter on Saturday in doubt we are still continuing to have dialogue with them.
"The deadline for the competition is midday on Friday. Once we've had the name approved by the BHA we will probably announce it on Monday."