Sir Henry Cecil: I'm raring to go
Sir Henry Cecil has declared himself "raring to go" for the new season after a near month-long holiday in Dubai.
Last Updated: 13/02/13 8:26am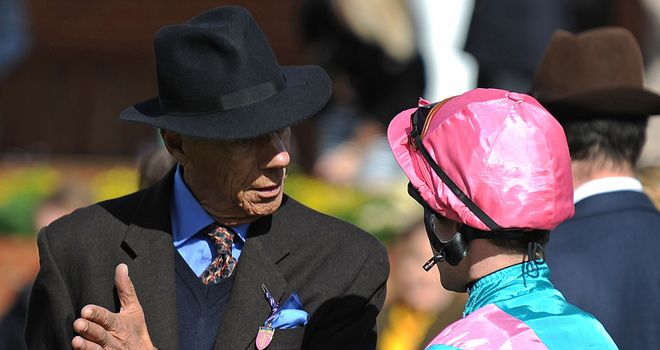 Frankel retired with an unblemished 14 from 14 record and starts his new career as a stallion at Banstead Manor Stud just outside Newmarket this week, with a fee of £125,000 charged for mares who want to use his services.
As part of a BBC Radio 5 Live Sport programme entitled 'Starstudded' to be broadcast on Thursday at 7.30pm-9pm, Cecil spoke of his improving health and confidence that Frankel will be a hit in his new life.
"The pressure's off me now," said Cecil.
"Frankel has a new career starting and it's very exciting. As he's so close it means I can go and see him.
"You never know (when horses go to stud) but he was such a terrific racehorse with so much ability you feel he'll pass it to his offspring.
"It was a difficult year because I wasn't well, I had a lot of treatment and everything.
"When you're trying to work and you've got a horse of that calibre there's a certain amount of pressure at being able to do it properly.
"I found it more pressure trying to be there for him when I wasn't feeling very well.
"I'm picking up the whole time now, I had three and a half weeks doing nothing in Dubai, it was a lovely holiday, I'm getting my energy back, putting on weight and raring to go."