Unbeaten sprinter Black Caviar returned from injury to win her 23rd consecutive race
Unbeaten sprinter Black Caviar returned from serious injury to win her 23rd consecutive race in a course-record time.
Last Updated: 16/02/13 1:20pm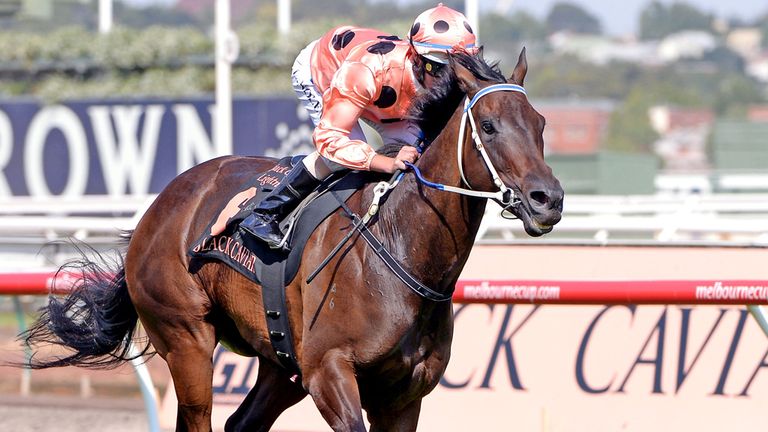 The six-year-old Australian superstar, racing for the first time since narrowly landing the Diamond Jubilee Stakes at Royal Ascot on June 23, claimed the Black Caviar Lightning Stakes by two-and-a-half lengths at Flemington racecourse.
She had recovered from a serious muscle tear to win the Group One event, ridden by Luke Nolen, and won at heavy odds-on of 1/10.
Although the great mare's racing career had been in the balance following her exertions in England, Black Caviar made a seamless return to the track by defeating Moment Of Change.
Moody said: "I am proud to have her back. I am just so proud of her and my team. We were on a hiding to nothing by bringing her back.
"The job was done and we thought it was over, but to come back and do that and run a record, I'm lost for words.
"I think it was the first time I've been nervous for a long time - I suppose it was the seven-month break - but I'm just so proud of her."
Jockey Nolen said: "She didn't tow up like she can through the early and middle stages. But she towed me into it nicely and I gave her a squeeze because I didn't want to get complacent with win 23.
"Because you're out on your own and it is a big track when the rail is back to the true and the wind is going about you don't get a real appreciation of how quick you are going.
"I had a look at the time when I rolled back in and I thought we might have gone a bit quicker than how it felt. She continues to amaze me."