Tome George hailed Nacarat as the grey was retired after his latest run
Tom George has confirmed the retirement of Nacarat and has reflected on a number of triumphs for the galloping grey.
Last Updated: 24/02/13 2:18pm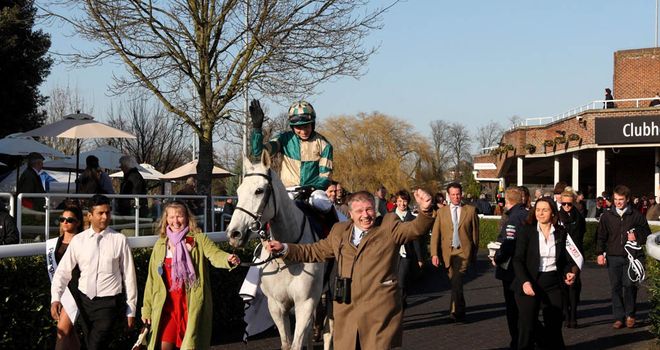 George called time on the 12-year-old's racing days following his fifth successive appearance in the Racing Plus Chase at Kempton on Saturday.
Nacarat could not improve on his two wins and two placed efforts in the valuable three-mile handicap, trailing in last of the 12 finishers.
But George is delighted his stable stalwart has retired sound and in one piece.
He said: "Winning a Grade One was obviously his highlight.
"Everyone's got to know him and seen a lot of him.
"He's always been there and put in a good show for himself."
Nacarat will remain at George's stables for a while before going to his owner Simon Clarke's premises in Staffordshire.
"He's fine except he's a bit stiff, as he would be at that age. He's happy and looking forward to some nicer weather and going out in the paddock for a few hours," said George.
"He'll wind down here, then he'll probably spend the first few weeks of the summer here then go back to his owner Simon Clarke's home in Staffordshire.
"He's been an absolutely incredible horse and he's retired a sound horse as well -
that's a tribute to him.
"He's retired injury free. He's had no leg trouble.
"He was quite difficult when we first got him, but he's retired sound and been a tough horse as well."
Nacarat joined George's team from France in the 2007-2008 season and went on to win six races in this country, netting over £480,000 in prize-money.